Ride Like a Girl (2019)
---
The story of Michelle Payne, the first female jockey to win the Melbourne Cup.
Other Movies You Might Enjoy
---
Ride Like a Girl (2019)
---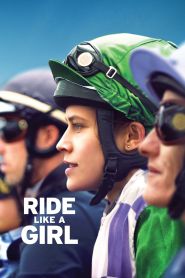 Information
---
Runtime: 98 minutes
Casts:
Henry Nixon
,
Teresa Palmer
,
Sam Neill
,
Sullivan Stapleton
,
Aaron Glenane
,
Sophia Forrest
,
Genevieve Morris
,
Stevie Payne
,
Gryffin Morrison
,
Summer North
,
Brooke Satchwell
,
Anneliese Apps
,
Katie Castles
,
Veronica Thomas
,
Zara Zoe
Storyline
---
The story of Michelle Payne, the first female jockey to win the Melbourne Cup.
Reviews
---
Movie Nation

-

The whole affair plays as muzzled, truncated and incomplete — a ten furlong dash through a two mile (16 furlong) race.

Los Angeles Times

-

Unfortunately, this Australian horse racing film remains a standard underdog narrative that fails to rouse the audience from their seats, despite the best efforts from its cast and a few charming moments.

The Hollywood Reporter

-

Making her debut as director with a true story from her native Australia, actor Rachel Griffiths gives the pic a workmanlike, generic feel that would play well on family-centric cable channels. Horse lovers will be the moviegoers most vulnerable to its modest charms.

Screen Daily

-

For a film so tied to a thoroughbred showcase, this broad crowd-pleaser blatantly relies on well-worn parts.

The Guardian

-

Clearly marketed as inoffensive feel-good pap, I didn't go into the film expecting a nuanced commentary on the racing industry. But nor did I expect what often felt like a thinly veiled 98-minute advertisement, interspersed with occasional moments of warmth and humanity.