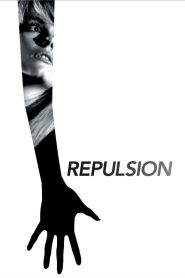 General Information
Glossary: R
Released Year: 1965
Runtime: 105 minutes
Genre: Drama, Horror, Thriller
Directors: Roman Polański
Casts: Roman Polański, Patrick Wymark, James Villiers, Catherine Deneuve, Helen Fraser, Renée Houston, Yvonne Furneaux, Ian Hendry, John Fraser, Mike Pratt, Valerie Taylor, Monica Merlin, Hugh Futcher, Imogen Graham
IMDB: Repulsion (1965)
Sponsored Links
Ratings
User Rating:
IMDB Rating:
7.7
Reviews
Austin Chronicle

-

Repulsion's depiction of a young woman's dissolution into madness is one of the most harrowing mental descents ever depicted onscreen. (Reviewed 11/24/97)

San Francisco Chronicle

-

The cruelty of his methods aside -- and Polanski wasn't the first director to terrorize an actor for the sake of a performance -- Repulsion is a frightening, fiercely entertaining experience that holds up to time. (Review of May 1998 revival)

TV Guide Magazine

-

Repulsion has often been compared to "Psycho," but Polanski's film, rather than presenting a portrait of a psychotic killer from outside, pulls the audience into the crazed individual's mind. (Review of Original Release)

Variety

-

Repulsion is a classy, truly horrific psychological drama in which Polish director Roman Polanski draws out a remarkable performance from young French thesp, Catherine Deneuve. (Review of Original Release)

The New York Times

-

An absolute knockout of a movie in the psychological horror line has been accomplished by Roman Polanski in his first English-language film. (Review of Original Release)
Repulsion (1965)
Beautiful young manicurist Carole suffers from androphobia (the pathological fear of interaction with men). When her sister and roommate, Helen, leaves their London flat to go on an Italian holiday with her married boyfriend, Carole withdraws into her apartment. She begins to experience frightful hallucinations, her fear gradually mutating into madness.