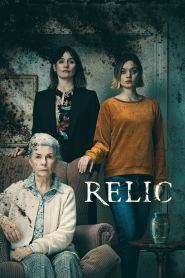 General Information
Glossary: R
Released Year: 2020
Runtime: 89 minutes
Genre: Drama, Horror
Directors: Natalie Erika James
Writers: Natalie Erika James, Christian White
Casts: Emily Mortimer, Robyn Nevin, Bella Heathcote, Chris Bunton, Steve Rodgers, Catherine Glavicic, Jeremy Stanford, Christina O'Neill, John Browning, Robin Northover
IMDB: Relic (2020)
Sponsored Links
Ratings
User Rating:
IMDB Rating:
5.9
Reviews
The Hollywood Reporter

-

A slow-burn haunted house movie becomes a disturbingly effective allegory for the ravages of dementia, which spreads like insidious rot from the afflicted into the family members witnessing her deterioration in Relic.

Austin Chronicle

-

The comparisons to "Hereditary," Ari Aster's febrile masterpiece of familial dysfunction, are inevitable, and while James doesn't quite reach that film's perturbing depths she brings a different insight.

RogerEbert.com

-

Relic, with a script co-written by James and Christian White, is filled with subtle detail, character depth, and a creeping mood of dread, illuminated by the three central performances given by Nevin, Emily Mortimer and Bella Heathcote.

The A.V. Club

-

The kind of dread-infused slow burn that's very much in vogue at the moment, Relic is so entirely, transparently, even explicitly about the horror of dementia and losing a loved one to it that the more traditional genre elements—like a potential supernatural presence in the house—feel rather redundant, maybe even unnecessary.

Variety

-

Not everyone will appreciate the ambiguity of a climax that can be read as either an uplifting act of pure and selfless love or a depressing capitulation to the malign forces of inevitable decline, but either way, "art-house horror" has its 2020 tidemark set high.
Relic (2020)
When Edna—the elderly and widowed matriarch of the family—goes missing, her daughter and granddaughter travel to their remote family home to find her. Soon after her return, they start to discover a sinister presence haunting the house and taking control of Edna.