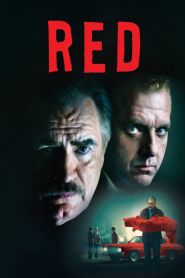 General Information
Glossary: R
Released Year: 2008
Runtime: 93 minutes
Genre: Drama, Thriller
Directors: Lucky McKee, Trygve Allister Diesen
Casts: Richard Riehle, Noel Fisher, Amanda Plummer, Tom Sizemore, Brian Cox, Kyle Gallner, Kim Dickens, Shiloh Fernandez, Robert Englund, Katie Piel, Marcia Bennett, Tate Ellington, Delaney Williams, Greg Stuhr, Ashley Laurence, Jack Ketchum, Keith Buterbaugh, John-Luke Montias
IMDB: Red (2008)
Sponsored Links
Ratings
User Rating:
IMDB Rating:
7.0
Reviews
The A.V. Club

-

Red's dialogue is a bit blunt, its characters are too broadly outlined, and the situation verges on the ludicrous at times, especially in the way these dumb kids keep committing terrible crimes without leaving any evidence. But the movie isn't meant to be an exercise in realism.

New York Post

-

Cox brilliantly underplays Avery, Sizemore is perfect as the arrogant dad, and the three boys (Noel Fisher, Kyle Gallner and Shiloh Fernandez) are right on pitch. Red the dog's pretty wonderful, too.

Variety

-

Touchy subject matter aside, Red demonstrates real elegance in its commitment to a relatively straightforward story, allowing the characters' emotions to come to a slow boil.

Washington Post

-

Its earnest, always incomplete quest haunts us in ways stock imagery cannot.

Village Voice

-

The movie's escalating series of tit-for-tat revenge ploys becomes a bit tedious even at 95 minutes, but Cox and a rich (if not always well-served) supporting cast that includes Tom Sizemore, Amanda Plummer, and Robert Englund keep it more than watchable throughout.
Red (2008)
Avery, a reclusive older man, has a best friend in his dog, Red. When three teens kill Red without reason, Avery sets out for justice and redemption, attempting to follow the letter of the law. But when the law fails him, and the boys' father clearly defines right and wrong in his own way, Avery must avenge himself by any means possible.