Pinocchio (2022)
---
A wooden puppet embarks on a thrilling adventure to become a real boy.
Other Movies You Might Enjoy
---
Pinocchio (2022)
---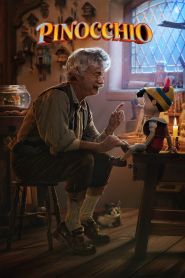 Information
---
Runtime: 111 minutes
Casts:
Joseph Gordon-Levitt
,
Tom Hanks
,
Luke Evans
,
Keegan-Michael Key
,
Lorraine Bracco
,
Hannah Flynn
,
Jamie Demetriou
,
Cynthia Erivo
,
Benjamin Evan Ainsworth
,
Sheila Atim
,
Jaquita Ta'le
,
Kyanne Lamaya
,
Angus Wright
,
Lewin Lloyd
,
Giuseppe Battiston
Storyline
---
A wooden puppet embarks on a thrilling adventure to become a real boy.
Reviews
---
Chicago Sun-Times

-

Every frame of "Pinocchio" is filled with rich and lush detail — at times this almost looks like a 3-D film — and the performances, whether live action or voiced, are universally excellent.

CNET

-

A brand new remake of the classic Disney animation sanitizes the aging cartoon's more dubious elements, but still manages to be bizarre as all get out -- and in fact, this awkward mash-mash of digital effects and live action adds new levels of weird.

The Guardian

-

The film is competently crafted, dutifully acted, clearly labored over with soul, and yet, like its star, lacks a beating heart.

IGN

-

Aside from an unexpected ending, director Robert Zemeckis is basically doing a paint-by-numbers version of the studio's much better original, just with modern animation and Tom Hanks. And while Tom always tries his best, even he can't make this redo memorable on its own merits.

IndieWire

-

While the original story remains undeniably excellent, "Pinocchio" fails at re-telling it because it ignores its own advice. Each failed attempt to modernize its beautiful message serves as a reminder of how little it needed updating in the first place.