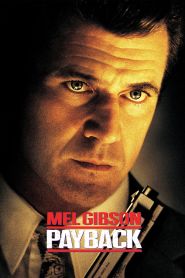 General Information
Glossary: P
Released Year: 1999
Runtime: 100 minutes
Genre: Action, Crime, Drama, Thriller
Directors: Brian Helgeland
Casts: David Paymer, Lucy Liu, Jack Conley, Maria Bello, Kris Kristofferson, Trevor St. John, Gregg Henry, Bill Duke, Mel Gibson, William Devane, Deborah Kara Unger, Freddy Rodríguez, James Coburn, John Glover
IMDB: Payback (1999)
Sponsored Links
Ratings
User Rating:
IMDB Rating:
7.1
Reviews
Austin Chronicle

-

Helgeland's film positively seethes with bad vibrations; it's kicky, nasty urban sangfroid with pointy little teeth and a serious case of the angries, an existential hand grenade disguised as a heist film.

ReelViews

-

While there's quite a bit more graphic bloodshed and brutality here than in any of the late screen icon's vehicles, Payback is a worthy '90s successor to his kind of movie.

Dallas Observer

-

Helgeland makes a solid debut as director here, finding a new angle through which to view the Parker character, and doing so without exhausting the possibilities.

Entertainment Weekly

-

Payback is a thriller so mean and degraded it carries a low-down, vicious charge. Sadism is its only real subject, and its only real life as well.

L.A. Weekly

-

Helgeland strips the material back to its pulp origins and overlays it with a patina of glib motifs familiar to devotees of Hollywood's 1970s renaissance.
Payback (1999)
With friends like these, who needs enemies? That's the question bad guy Porter is left asking after his wife and partner steal his heist money and leave him for dead -- or so they think. Five months and an endless reservoir of bitterness later, Porter's partners and the crooked cops on his tail learn how bad payback can be.