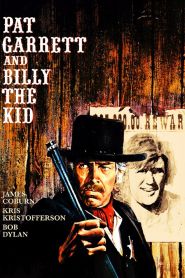 General Information
Glossary: P
Released Year: 1973
Runtime: 106 minutes
Genre: Western
Directors: Sam Peckinpah
Casts: Richard Bright, Harry Dean Stanton, Bruce Dern, Kris Kristofferson, Charles Martin Smith, Elisha Cook Jr., Katy Jurado, Chill Wills, Slim Pickens, Claudia Bryar, Luke Askew, James Coburn, Matt Clark, Dub Taylor, R.G. Armstrong, Jason Robards, Jack Elam, Rutanya Alda, L.Q. Jones, Jorge Russek, Walter Kelley, Donnie Fritts, Sam Peckinpah, Barry Sullivan, John Davis Chandler, Paul Fix, Gene Evans, Emilio Fernández, Richard Jaeckel, Michael T. Mikler, Rudy Wurlitzer, John Beck, Rita Coolidge, Aurora Clavel, Elizabeth Dupeyrón, Jack Dodson, Bob Dylan
IMDB: Pat Garrett & Billy the Kid (1973)
Sponsored Links
Ratings
User Rating:
IMDB Rating:
7.3
Reviews
Time Out

-

Like Ford's The Man Who Shot Liberty Valance, it both records and condemns the passage of time and the advent of progress; and there is a sombre, mournful quality which places the film very high up in the league of great Westerns.

TV Guide Magazine

-

The film is visually stunning, and Peckinpah makes great use of his Durango, Mexico, locations.

The A.V. Club

-

A dry, dour film where the moments of poetic Americana barely cohere.

Chicago Sun-Times

-

The movie fails to work up much excitement, and the title song by Bob Dylan is quite simply awful.

The New York Times

-

Pat Garrett and Billy the kid suggest either that he (Peckinpah) has begun to take talk about his genius too seriously (it can happen to the best) or that he has fallen in with bad company.
Pat Garrett & Billy the Kid (1973)
An aging Pat Garrett is hired as a lawman on behalf of a group of wealthy New Mexico cattle barons--his sole purpose being to bring down his old friend Billy the Kid.