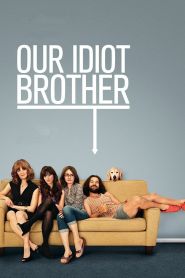 General Information
Glossary: O
Released Year: 2011
Runtime: 90 minutes
Genre: Comedy, Drama
Directors: Jesse Peretz
Casts: Paul Rudd, Elizabeth Banks, Zooey Deschanel, Emily Mortimer, Adam Scott, Kathryn Hahn, Hugh Dancy, Steve Coogan, Rashida Jones, T.J. Miller, Shirley Knight, Janet Montgomery, Sterling K. Brown, Bob Stephenson, Peter Hermann, Francesca Papalia, Matthew Mindler, Lydia Haug, Wrenn Schmidt, Kathy Fitzgerald, Marceline Hugot, Alexia Rasmussen, Lucas Near-Verbrugghe, Polly Draper, Neal Lerner, Katie Aselton, Gina Artese, James Biberi, Camille Bright, Teja Frank, Nick Sullivan, Kelly Briter, Andrew Secunda, Adi Hanash, Nikki E. Walker
IMDB: Our Idiot Brother (2011)
Sponsored Links
Ratings
User Rating:
IMDB Rating:
6.4
Reviews
Slant Magazine

-

Shat makes Our Idiot Brother work is the endless appeal of watching Rudd's lovable idiot run roughshod over the sophisticated New York mini-universe while winning the confidence and admiration of everyone around him.

Boxoffice Magazine

-

This is Rudd's movie and he once more displays an unerring eye for comedy. He comes at it from an actor's perspective rather than a comedian's and it shows as his character as hilarious as he is credible.

Tampa Bay Times

-

Certainly amusing, but it never accelerates past one-note characters playing out separate personal crises in ways that aren't surprising.

Orlando Sentinel

-

The unfailing sweetness of Paul Rudd's lead performance makes what could have been another raunchy and rude R-rated farce a bracing change of pace in a summer of aggressive comedies about aggressive people, from "Bad Teachers" to "Horrible Bosses."

Arizona Republic

-

The rest of the cast is fine, actually, but Rudd spares nothing in making Ned a lovable loser, with the emphasis on "loser."
Our Idiot Brother (2011)
Everybody has the sibling who is always just a little bit behind the curve when it comes to getting his life together. For sisters Liz, Miranda and Natalie, that person is their perennially upbeat brother Ned, an erstwhile organic farmer whose willingness to rely on the honesty of mankind is a less-than-optimum strategy for a tidy, trouble-free existence. Ned may be utterly lacking in common sense, but he is their brother and so, after his girlfriend dumps him and boots him off the farm, his sisters once again come to his rescue. As Liz, Miranda and Natalie each take a turn at housing Ned, their brother's unfailing commitment to honesty creates more than a few messes in their comfortable routines. But as each of their lives begins to unravel, Ned's family comes to realize that maybe, in believing and trusting the people around him, Ned isn't such an idiot after all.