Original Sin (2001)
---
A young man is plunged into a life of subterfuge, deceit and mistaken identity in pursuit of a femme fatale whose heart is never quite within his grasp
Other Movies You Might Enjoy
---
Original Sin (2001)
---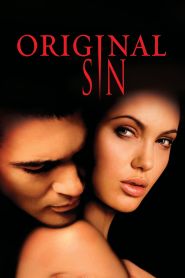 Information
---
Runtime: 118 minutes
Storyline
---
A young man is plunged into a life of subterfuge, deceit and mistaken identity in pursuit of a femme fatale whose heart is never quite within his grasp
Reviews
---
Chicago Sun-Times

-

The movie is not intended to be subtle. It is sweaty, candle-lit melodrama, joyously trashy, and its photography wallows in sumptuous decadence.

Chicago Reader

-

Retained my interest and sympathy -- at least until the nonsensical ending,

Chicago Tribune

-

Jolie and Banderas are two hot actors, in many senses of the word, and their scenes together have a lewd excitement.

TV Guide Magazine

-

Ridiculous, yes, but in an eminently watchable way. Most of the plot twists work surprisingly well, and the frequently naked leads work up some genuine chemistry.

Austin Chronicle

-

It's not nearly as mediocre a two hours as the trailers would have you think.