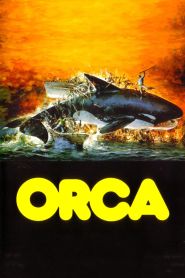 General Information
Glossary: O
Released Year: 1977
Runtime: 92 minutes
Genre: Adventure, Drama, Horror
Directors: Michael Anderson
Casts: Richard Harris, Charlotte Rampling, Bo Derek, Will Sampson, Keenan Wynn, Robert Carradine, Don Barry, Peter Hooten, Wayne Heffley, Scott Walker, Vincent Gentile
IMDB: Orca The Killer Whale (1977)
Sponsored Links
Ratings
User Rating:
IMDB Rating:
5.7
Reviews
Slant Magazine

-

A bald rehash of Jaws, only with the Moby Dick elements played up even further, Orca isn't a cheap thrill (producer Dino Di Laurentiis was also the man behind the idiotic-but-exhilarating King Kong remake), but it sure does seem like it's in a rush to finish.

The New York Times

-

If it were medically possible to overdose on claptrap, Orca would be compelled to carry a warning from the Surgeon General.

Time Out

-

There is some startling footage, but Anderson's direction dithers perceptibly, and finally opts for an unpleasant mish-mash of phony ecological concern and meretricious sensationalism. The ultimate indignity the beast suffers is to become a simple extension of Harris' threadbare macho image.

Variety

-

Orca is man-vs-beast nonsense. Some fine special effects and underwater camera work are plowed under in dumb story-telling.

TV Guide Magazine

-

Dino De Laurentiis' attempt to cash in on the popularity of JAWS is a total failure.
Orca The Killer Whale (1977)
After witnessing the killing of his mate and offspring at Captain Nolan's hands, a vengeful killer whale goes on a rampage in the fisherman's Newfoundland harbor. Under pressure from the villagers, Nolan, Rachel and Umilak sail after the great beast, who will meet them on its own turf.