Nope (2022)
---
Residents in a lonely gulch of inland California bear witness to an uncanny, chilling discovery.
Other Movies You Might Enjoy
---
Nope (2022)
---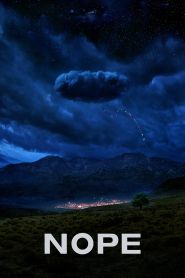 Information
---
Runtime: 130 minutes
Casts:
Terry Notary
,
Wrenn Schmidt
,
Keith David
,
Daniel Kaluuya
,
Keke Palmer
,
Eddie Jemison
,
Michael Wincott
,
Devon Graye
,
Oz Perkins
,
Jennifer Lafleur
,
Alex Hyde-White
,
Evan Shafran
,
Steven Yeun
,
Donna Mills
,
Brandon Perea
,
Liza Treyger
,
Barbie Ferreira
,
Jacob Kim
,
Sophia Coto
,
Andrew Patrick Ralston
,
Lincoln Lambert
,
Pierce Kang
,
Roman Gross
,
Ryan W. Garcia
,
Conor Kawalski
,
Mark Casimir Dyniewicz Jr.
,
Hetty Chang
,
Courtney Stephens
,
Caden J. Lovgren
,
Malcolm Jae O'Shea
Storyline
---
Residents in a lonely gulch of inland California bear witness to an uncanny, chilling discovery.
Reviews
---
Consequence

-

Jordan Peele's made a thrilling, exciting blockbuster that also touches on the nature of spectacle, and the ways artists get chewed up and spat out (in some cases, literally) by their work.

IndieWire

-

It doesn't hurt that Peele's latest boasts some of the most inspired alien design since H.R. Giger left his mark on the genre, or that Kaluuya's eyes remain some of Hollywood's most special effects, as "Nope" gets almost as much mileage from their weariness as "Get Out" squeezed from their clarity. It's through them that "Nope" searches for a new way of seeing, returns the Haywoods to their rightful place in film history, and creates the rare Hollywood spectacle that doesn't leave us looking for more.

Slashfilm

-

Nope may not be Jordan Peele's best movie to date, but it is his most enjoyable. A true summer movie spectacle meant to be writ large across the screen, giving us thrills, chills, laughs, and that most precious of things: movie magic.

RogerEbert.com

-

It's a puzzle with a few pieces missing; standing back from it, you can still see the picture. But does it give the viewer exactly what they want? See the title.

Screen Rant

-

Nope, Jordan Peele's movie about a bad miracle, offers a thrilling and humorous twist on Hollywood sci-fi - and serves as a love letter to filmmaking.