Nina Forever (2015)
---
Holly loves Rob and tries to help him through his grief – even if it means contending with his dead girlfriend Nina, who comes back, bloody and broken, every time they make love
Other Movies You Might Enjoy
---
Nina Forever (2015)
---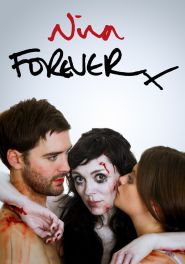 Information
---
Runtime: 98 minutes
Casts:
Lee Nicholas Harris
,
Elizabeth Elvin
,
Bruce Webb
,
Abigail Hardingham
,
Cian Barry
,
Fiona O'Shaughnessy
,
David Troughton
,
Bill Holland
,
Sean Verey
,
Phelim Kelly
,
Richard Sandling
,
Javan Hirst
,
Katharine Bennett-Fox
,
Tamar Karabetyan
,
Mandeep Dhillon
,
Barry Castagnola
,
Femi Houghton
,
Dennis Thickpenny
Storyline
---
Holly loves Rob and tries to help him through his grief – even if it means contending with his dead girlfriend Nina, who comes back, bloody and broken, every time they make love
Reviews
---
CineVue

-

Nina Forever is a brilliant, intelligent and emotionally rewarding debut feature.

The Globe and Mail (Toronto)

-

The film's bizarre, gore-soaked premise actually manages to ease viewers into the far more uncomfortable topic of grief – after all, dying is easy, but living with death is much more complicated.

RogerEbert.com

-

Nina Forever subverts audience expectations at every turn and develops the kind of genuine emotional power that keeps it from being just another gory goof.

The Playlist

-

The powerful performances by the three leads really help create the brothers' distinct vision.

Screen International

-

The ending is haunting and affecting.