Nice Dreams (1981)
---
Cheech and Chong house sit for a marijuana grower and rip off the crop. Stalked by keystone-style cops, Los Guys have a series of encounters with L.A. area characters even weirder than themselves
Other Movies You Might Enjoy
---
Nice Dreams (1981)
---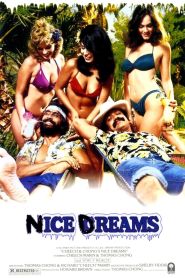 Information
---
Runtime: 88 minutes
Casts:
Paul Reubens
,
Cheech Marin
,
Tommy Chong
,
Linnea Quigley
,
Tony Cox
,
Peter Jason
,
Sandra Bernhard
,
Stacy Keach
,
Timothy Leary
,
Cheryl Smith
,
Suzanne Kent
,
Shelby Chong
,
Evelyn Guerrero
,
Jeff Pomerantz
,
Sally Marr
Storyline
---
Cheech and Chong house sit for a marijuana grower and rip off the crop. Stalked by keystone-style cops, Los Guys have a series of encounters with L.A. area characters even weirder than themselves
Reviews
---
Washington Post

-

Cheech & Chong have adapted their stoogey characters and satirical burlesque of the drug culture "life style" to the movies with remarkable ease and assurance. They seem the freshest and most imaginative comics to seize a creative hold on the medium since Woody Allen emerged more or less confidently in "BANANAS." [5 June 1981, p.D1]

The New York Times

-

If marijuana has a way of heightening the hilarious aspects of things that might not otherwise be funny, then this is very much a marijuana movie. But Nice Dreams also has a more general appeal than that. These are high spirits that don't have to do with being high.

Washington Post

-

The nice thing about Nice Dreams is that, if you can live with a little raunchiness, it's fun, and it's funnier than C&C's "Next Movie," their second movie after "Up in Smoke": the humor doesn't rely so completely on old jokes about the drug culture. Cheech and Chong are bawdy, they're unself-consciously irreverent, and if any idiocy can happen, it will happen to them. So naturally people enjoy watching them. [5 June 1981, p.17]

Chicago Tribune

-

A dull and lethargic comedy. [19 June 1981, p.2-8]

TV Guide Magazine

-

The title duo serves up more idiocy, this time by dispensing drugs from an ice-cream truck--a concept that will appeal to few these days. The failure to come up with a strong script, character development, plot, authentic humor, or basic entertainment doesn't improve matters any.