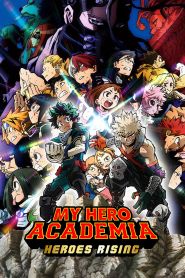 General Information
Glossary: M
Released Year: 2019
Runtime: 104 minutes
Genre: Action, Animation
Directors: Kenji Nagasaki
Casts: Aoi Yuki, Yuichi Nakamura, Eri Kitamura, Yuuki Kaji, Kaito Ishikawa, Yuka Terasaki, Yoshio Inoue, 山下大辉, Nobuhiko Okamoto, Kenta Miyake, Ayane Sakura, Toshiki Masuda, Marina Inoue, Kôsuke Kuwano, Kousuke Miyoshi, Mio Imada, Tomoyo Kurosawa, Shunsuke Takeuchi, Kohsuke Toriumi, Tarusuke Shingaki, Yuuto Uemura, Kiyono Yasuno, Kiyotaka Furushima, Tasuku Hatanaka, Yoshimasa Hosoya, Takuma Nagatsuka, Tooru Nara, Kaori Nazuka, Masakazu Nishida, Kei Shindou
IMDB: My Hero Academia: Heroes Rising (2019)
Sponsored Links
Ratings
User Rating:
IMDB Rating:
8.0
Reviews
The New York Times

-

This is canny, passionate filmmaking, a reminder of the power of two-dimensional animation. First, it humanizes, then it astounds.

Polygon

-

If the creator's words are to be trusted, and this is My Hero Academia's final film, the series has departed on an exciting high point, among the series' greatest moments.

Los Angeles Times

-

Director Kenji Nagasaki pulls out all the stops in the climactic battle, serving up a dazzling array of explosions, lightning, punches, kicks, storm clouds and more explosions. The brilliant palette infuses the sequence with a striking visual beauty, even if the result is a foregone conclusion.

IGN

-

From excellent team-ups between Deku and Bakugo to strategic standoffs featuring some of the more minor characters like Ashido and Tokoyami, the entirety of Class 1-A gets to shine in this new movie.

Paste Magazine

-

Sure, the action is thrilling and the visual effects are stellar, but Heroes Rising as a whole only manages to graze the surface of what makes My Hero Academia the series itself so great.
My Hero Academia: Heroes Rising (2019)
Class 1-A visits Nabu Island where they finally get to do some real hero work. The place is so peaceful that it's more like a vacation … until they're attacked by a villain with an unfathomable Quirk! His power is eerily familiar, and it looks like Shigaraki had a hand in the plan. But with All Might retired and citizens' lives on the line, there's no time for questions. Deku and his friends are the next generation of heroes, and they're the island's only hope.