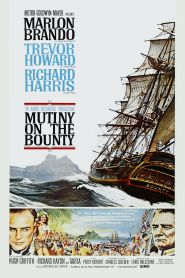 General Information
Glossary: M
Released Year: 1962
Runtime: 185 minutes
Genre: Adventure, Drama, History
Directors: Lewis Milestone
Casts: Richard Harris, Marlon Brando, Trevor Howard, Hugh Griffith, Eddie Byrne, Noel Purcell, Gordon Jackson, Percy Herbert, Chips Rafferty, Tim Seely, Tarita
IMDB: Mutiny on the Bounty (1962)
Sponsored Links
Ratings
User Rating:
IMDB Rating:
7.3
Reviews
Variety

-

This is a superb blending of direction, photography and special effects artistry.

IGN

-

Watching the film now, it seems like a bit of an anachronism. The story may be set in 1789, but the style and tone of the film is pure 1962. They simply don't make films like this anymore.

The New York Times

-

Has its ups and downs. Bronislau Kaper has provided a highly chromatic musical score that is consistent with the size, the sweeping romance and the eventual lumpishness of this film.

TV Guide Magazine

-

It's obvious that director Milestone could not control Brando for a moment and that the famous, sometimes brilliant actor directed himself. His is one of the most impossible performances in screen history, infecting Harris, who plays a sort of seagoing Iago and is equally hammy and unbelievable.

Chicago Reader

-

This three-hour 1962 remake of the Charles Laughton-Clark Gable MGM classic (1935) was the first production in which Marlon Brando really ran amok, with various delays causing the budget to skyrocket. Hardly anyone was pleased with the results.
Mutiny on the Bounty (1962)
The Bounty leaves Portsmouth in 1787. Its destination: to sail to Tahiti and load bread-fruit. Captain Bligh will do anything to get there as fast as possible, using any means to keep up a strict discipline. When they arrive at Tahiti, it is like a paradise for the crew, something completely different than the living hell aboard the ship. On the way back to England, officer Fletcher Christian becomes the leader of a mutiny.