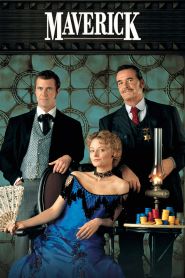 General Information
Glossary: M
Released Year: 1994
Runtime: 127 minutes
Genre: Action, Adventure, Comedy, Thriller, Western
Directors: Richard Donner
Casts: Dan Hedaya, Max Perlich, Graham Greene, Lauren Shuler Donner, Alfred Molina, Bob Jennings, Danny Glover, Geoffrey Lewis, Dennis Fimple, Margot Kidder, Jodie Foster, Mel Gibson, Donal Gibson, James Garner, Vilmos Zsigmond, Corey Feldman, William Smith, Frank Orsatti, John Meier, Paul Tuerpe, Leo Gordon, Art LaFleur, Steve Kahan, James Coburn, Reba McEntire, Doc Duhame, Michael Paul Chan, Read Morgan, Dub Taylor, Steven Chambers, J. Mills Goodloe, John M. Woodward, Jean De Baer, Bill Henderson, Cal Bartlett, Doug McClure, Paul L. Smith, Robert Fuller, Stephen Liska, Courtney Barilla, Denver Pyle, Clint Black, Paul Brinegar, Hal Ketchum, Jesse Eric Carroll, Toshonnie Touchin, Kimberly Cullum, Gary Richard Frank, Robert Jones, Waylon Jennings, Kathy Mattea, Carlene Carter, Vince Gill, Janis Oliver Gill, Chuck Hart, Henry Darrow, Richard Blum, Bert Remsen, William Marshall
IMDB: Maverick (1994)
Sponsored Links
Ratings
User Rating:
IMDB Rating:
7.0
Reviews
Variety

-

This exuberant Western is a crowd-pleaser that remains faithful to the genre while having a roaring good time sending up its conventions.

Chicago Sun-Times

-

The first lighthearted, laugh-oriented family Western in a long time, and one of the nice things about it is, it doesn't feel the need to justify its existence. It acts like it's the most natural thing in the world to be a Western.

Chicago Tribune

-

Succeeds, just barely, on the good will of its stars and the sumptuousness of its Western locations.

The New York Times

-

Fast, funny, full of straight-ahead action and tongue-in-cheek jokes, Maverick is Lethal Weapon meets Butch Cassidy and the Sundance Kid. That combination won't win any prizes for originality, but it works like a movie mogul's dream and sets the summer-film season off to an unbeatable start.

Time

-

The film offers us Mel Gibson as a new Bret Maverick, the Western gambler, as well as the old TV Maverick, James Garner, now playing a wry frontier sheriff. These two guys can make you smile contentedly even when the script is wandering and they're just sort of standing around waiting for its next good part to develop.
Maverick (1994)
Maverick is a gambler who would rather con someone than fight them. He needs an additional three thousand dollars in order to enter a Winner Take All poker game that begins in a few days. He tries to win some, tries to collect a few debts, and recover a little loot for the reward. He joins forces with a woman gambler with a marvelous southern accent as the two both try and enter the game.