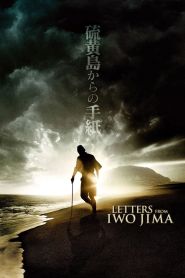 General Information
Glossary: L
Released Year: 2006
Runtime: 141 minutes
Genre: Drama, History, War
Directors: Clint Eastwood
Casts: Toshi Toda, Ryo Kase, Ken Kensei, Yuki Matsuzaki, Ken Watanabe, Shidou Nakamura, Tsuyoshi Ihara, Kazunari Ninomiya, Hiroshi Watanabe, Eijiro Ozaki, Lucas Elliot Eberl, Hiro Abe, Sonny Saito, Steve Santa Sekiyoshi, Toshiya Agata, Ikuma Ando, Akiko Shima, Masashi Nagadoi
IMDB: Letters from Iwo Jima (2006)
Sponsored Links
Ratings
User Rating:
IMDB Rating:
7.9
Reviews
Newsweek

-

It's unprecedented, a sorrowful and savagely beautiful elegy that can stand in the company of the greatest antiwar movies.

Entertainment Weekly

-

Clint Eastwood's profound, magisterial, and gripping companion piece to his ambitious meditation on wartime image and reality, "Flags of Our Fathers."

Rolling Stone

-

Eastwood's direction here is a thing of beauty, blending the ferocity of the classic films of Akira Kurosawa (Seven Samurai) with the delicacy and unblinking gaze of Yasujiro Ozu (Tokyo Story).

The Hollywood Reporter

-

Now Eastwood turns on a dime and tackles not just his first war movie but two war movies of considerable scope and complexity. If he doesn't nail everything perfectly, he nevertheless has created a vivid memorial to the courage on both sides of this battle and created an awareness in the public consciousness at a most opportune moment about how war feels to those lost in its fog.

Variety

-

Taken together, "Flags" and "Letters" represent a genuinely imposing achievement, one that looks at war unflinchingly -- that does not deny its necessity but above all laments the human loss it entails.
Letters from Iwo Jima (2006)
The story of the battle of Iwo Jima between the United States and Imperial Japan during World War II, as told from the perspective of the Japanese who fought it.