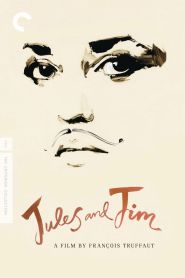 General Information
Glossary: J
Released Year: 1962
Runtime: 110 minutes
Genre: Drama, Romance
Directors: François Truffaut
Casts: Jeanne Moreau, Anny Nelsen, Oskar Werner, Henri Serre, Marie Dubois, Sabine Haudepin, Vanna Urbino, Serge Rezvani, Michel Subor, Danielle Bassiak, Elen Bober, Pierre Fabre, Dominique Lacarrière, Bernard Largemains, Kate Noelle, Jean-Louis Richard, Michel Varesano, Christiane Wagner
IMDB: Jules and Jim (1962)
Sponsored Links
Ratings
User Rating:
IMDB Rating:
7.8
Reviews
The Dissolve

-

François Truffaut's Jules And Jim is many things, not least among them a modernist Pygmalion.

Chicago Reader

-

With this 1961 film Truffaut comes closest to the spirit and sublimity of his mentor, Jean Renoir, and the result is a masterpiece of the New Wave.

Chicago Sun-Times

-

Jules and Jim is one of those rare films that knows how fast audiences can think, and how emotions contain their own explanations

Time Out

-

There is great sadness in 'Jules et Jim', what with the war, Catherine's betrayals and the nebulous tragedy that is growing up, for those who can manage it but, after the whirlwind has departed, it's the joy – the sense of plunging into life – that remains.

LarsenOnFilm

-

Playfulness is the defining characteristic of Jules and Jim, even if what it largely entails is a tragic gender gap of fatal proportions.
Jules and Jim (1962)
In the carefree days before World War I, introverted Austrian author Jules strikes up a friendship with the exuberant Frenchman Jim. Both men fall for the impulsive and beautiful Catherine, but it's Jules who wins her hand. After the war, Jim visits Jules, Catherine and their daughter in their Austrian home and discovers not only that his feelings for Catherine are unchanged, but also that they're reciprocated.