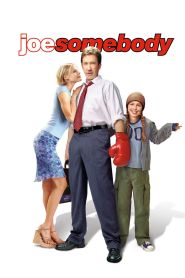 General Information
Glossary: J
Released Year: 2001
Runtime: 99 minutes
Genre: Comedy, Romance
Directors: John Pasquin
Casts: Julie Bowen, James Belushi, Kelly Lynch, Hayden Panettiere, Tim Allen, Patrick Warburton, Greg Germann, Robert Joy, Ken Marino, Cean Okada, Wolfgang Bodison, Tina Lifford, Cristi Conaway, Jane Hajduk, James Cada, Tawnja Zahradka, Ahna Brandvik, Claudia Wilkens, Michelle Barnes, Sarah Agnew, Danielle Durham
IMDB: Joe Somebody (2001)
Sponsored Links
Ratings
User Rating:
IMDB Rating:
5.5
Reviews
Charlotte Observer

-

For all the story's bland familiarity, it has winning moments. Allen's no actor, but he projects a likeable personality.

Variety

-

Pretty formulaic stuff: bland self-empowerment tinged with warm fuzzies in all the right places. But what makes this "Somebody" something is Pasquin's deft touch and understanding with the material.

Entertainment Weekly

-

It turns out that Joe ends up liking the old Joe better too. Who just so happens to be the kind of average-Joe character that continues to make Allen such a tidy, non-Joe bundle.

Miami Herald

-

The best scenes in the movie belong to James Belushi.

Baltimore Sun

-

This is harmless fun for the holiday season, but Tim Allen doesn't give movie the punch it needs.
Joe Somebody (2001)
When underappreciated video specialist Joe Scheffer is brutally humiliated by the office bully Mark McKinney in front of his daughter, Joe begins a quest for personal redemption. He proceeds by enduring a personal make-over and takes martial arts lessons from a B-action star. As news spreads of his rematch with Mark, Joe suddenly finds himself the center of attention, ascending the corporate ladder and growing in popularity. He's determined to show everyone in his life that he is not a nobody, but a force to be reckoned with.