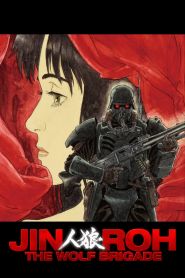 General Information
Glossary: J
Released Year: 1999
Runtime: 102 minutes
Genre: Animation, Drama, Sci-Fi, Thriller
Directors: Hiroyuki Okiura
Casts: Tamio Ohki, Yoshikatsu Fujiki, Sumi Mutou, Hiroyuki Kinosha, Eri Sendai, Kenji Nakagawa, Kousei Hirota, Ryuichi Horibe, Yukihiro Yoshida, Yoshisada Sakaguchi, Yoshisada Sakaguchi
IMDB: Jin-Roh: The Wolf Brigade (1999)
Sponsored Links
Ratings
User Rating:
IMDB Rating:
7.4
Reviews
Seattle Post-Intelligencer

-

The plot is often bewilderingly complex and the dense layers of subterfuge hard to follow, but by the climax the fairy tale has been twisted into a fascist fable of realpolitik mercenary opportunism.

L.A. Weekly

-

Where Okiura leads the art of animation into truly uncharted territory is in his character work, the precise behavioral strokes that bring people to life in two dimensions.

Village Voice

-

A superbly crafted science-fiction fairy tale that's both Grimm and grim.

San Francisco Chronicle

-

The film is built to quaver and buckle along with its victims and martyrs. In an almost soulful way, it bespeaks the reality lingering when the final fantasy ends.

TV Guide Magazine

-

Characters are undermined by the inexpressive animation that mars the majority of animated films: Their haunted inner lives are clearly meant to take center stage, but their faces are blank and two-dimensional.
Jin-Roh: The Wolf Brigade (1999)
A member of an elite paramilitary counter-terrorism unit becomes traumatized after witnessing the suicide bombing of a young girl and is forced to undergo retraining. However, unbeknownst to him, he becomes a key player in a dispute between rival police divisions, as he finds himself increasingly involved with the sister of the girl he saw die.