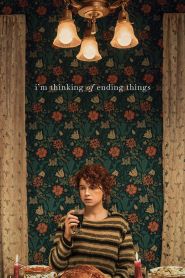 General Information
Glossary: I
Released Year: 2020
Runtime: 135 minutes
Genre: Drama, Thriller
Directors: Charlie Kaufman
Casts: Jesse Plemons, Oliver Platt, David Thewlis, Toni Collette, Guy Boyd, Teddy Coluca, Dannielle Rose, Abby Quinn, Jessie Buckley, Colby Minifie, Unity Phelan, Monica Ayres, Hadley Robinson, Gus Birney, Anthony Grasso, Jason Ralph, Fredrick Wodin, Ryan Steele, Dj Nino Carta, Austin Ferris, James Glorioso Jr.
IMDB: I'm Thinking of Ending Things (2020)
Sponsored Links
Ratings
User Rating:
IMDB Rating:
6.7
Reviews
IndieWire

-

For all of its self-insistent detours and high-minded indulgences, I'm Thinking of Ending Things rarely feels like a concept in search of a movie. There's a fullness and vitality to it that shines through even when the film is chasing its own tail, which is basically all it wants to do.

Slashfilm

-

It's a beautiful, strange terrarium of a film, inviting us to gaze through the glass and wonder what's going on underneath. Just as funny and creepy as it needs to be, the film is Kaufman at the top of his game, firing on all cylinders. A master of his own unique, unclassifiable craft.

The Film Stage

-

Both times I've watched I'm Thinking of Ending Things, it's left me feeling off-kilter, its last images lingering in my mind and the haunting final notes of Jay Wadley's score ringing in my ears. This one will polarize viewers, but nobody can call it forgettable.

The Playlist

-

I'm Thinking of Ending Things is a weird, infinite, messy cacophony of reflections, somehow expansive in its narrowness and confrontational in its honesty to a soul-baring degree.

The Guardian

-

With his new film, Charlie Kaufman again proves that if you want something to make you feel trapped in a terrifying claustrophobic nightmare for ever and ever ... well, he's your guy.
I'm Thinking of Ending Things (2020)
Nothing is as it seems when a woman experiencing misgivings about her new boyfriend joins him on a road trip to meet his parents at their remote farm.