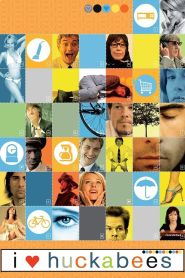 General Information
Glossary: I
Released Year: 2004
Runtime: 106 minutes
Genre: Comedy, Romance
Directors: David O. Russell
Casts: Talia Shire, Mark Wahlberg, Jonah Hill, Jude Law, Dustin Hoffman, Jason Schwartzman, Naomi Watts, Bob Gunton, Kevin Dunn, Richard Jenkins, Saïd Taghmaoui, Darlene Hunt, Jean Smart, Isla Fisher, Lily Tomlin, John Rothman, Isabelle Huppert, Tippi Hedren, Anthony 'Ace' Thomas, Shania Twain, Sydney Zarp
IMDB: I Love Huckabees (2004)
Sponsored Links
Ratings
User Rating:
IMDB Rating:
6.6
Reviews
L.A. Weekly

-

A fresh, buoyant, mischievous and rather jolly meditation - if that's the word for a movie as divinely nuts as this one is - on the meaning of life in an unhappy world.

ReelViews

-

A lot of people are going to describe it as a waste of time, yet there's a likeability to the quirky characters that held my interest while tickling my funny bone.

Variety

-

Clever but distancing, this existential comedy bounces along on the backs of its tasty cast, witty writing and stylistic verve.

Village Voice

-

There's more than a bit of Charlie Kaufman to the heady premise, although the scenario doesn't double back on itself--except perhaps in the joke of having Schwartzman's actual mother, Talia Shire, play his mother on-screen.

The Hollywood Reporter

-

Despite the unique premise and some truly inspired casting, the picture remains stuck in an existential rut of its own.
I Love Huckabees (2004)
A husband-and-wife team play detective, but not in the traditional sense. Instead, the happy duo helps others solve their existential issues, the kind that keep you up at night, wondering what it all means.