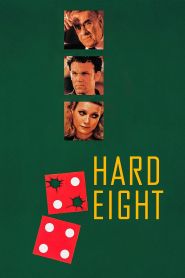 General Information
Glossary: H
Released Year: 1996
Runtime: 96 minutes
Genre: Drama, Thriller
Directors: Paul Thomas Anderson
Casts: Gwyneth Paltrow, Philip Baker Hall, Samuel L. Jackson, Philip Seymour Hoffman, John C. Reilly, Melora Walters, Wendy Weidman, Jason "Jake" Cross, Robert Ridgely, Richard Gross, F. William Parker, Nathanael Cooper, Wynn White, Kathleen Campbell, Michael J. Rowe, Peter D'Allesandro, Steve Blane, Jean Langer, Andy Breen, Renee Breen, Jane W. Brimmer, Mark Finizza, Cliff Keeley, Carrie McVey, Truman Robbins, Ernie Anderson
IMDB: Hard Eight (1996)
Sponsored Links
Ratings
User Rating:
IMDB Rating:
7.2
Reviews
The A.V. Club

-

One of the best films of the year.

Chicago Reader

-

Impressive for its lean and unblemished storytelling, but even more so for its performances.

Chicago Sun-Times

-

Movies like Hard Eight remind me of what original, compelling characters the movies can sometimes give us.

The New York Times

-

The role of Jimmy is one of Mr. Jackson's scarier characters, and this brilliant actor inhabits all four corners of his jittery, avaricious personality. When he and Sydney finally clash, the movie makes its darkest, cleverest turn into film-noir nightmare.

Washington Post

-

Paul Thomas Anderson shows off the same sort of quirky smarts that Joel and Ethan Coen did in "Blood Simple."
Hard Eight (1996)
A stranger mentors a young Reno gambler who weds a hooker and befriends a vulgar casino regular.