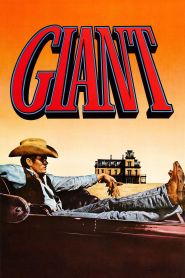 General Information
Glossary: G
Released Year: 1956
Runtime: 201 minutes
Genre: Drama, Western
Directors: George Stevens
Casts: Rod Taylor, Dennis Hopper, Victor Millan, Mercedes McCambridge, Carolyn Craig, Chill Wills, Carroll Baker, Barbara Barrie, Sheb Wooley, Bert Stevens, Paul Fix, Bess Flowers, Elizabeth Taylor, Jane Withers, Earl Holliman, Sal Mineo, Robert Nichols, Harold Miller, Charles Watts, Alexander Scourby, Judith Evelyn, Elsa Cárdenas, James Dean, Rock Hudson, Monte Hale, Mary Ann Edwards, Mickey Simpson, Pilar Del Rey, Maurice Jara, Noreen Nash, Ray Whitley, Napoleon Whiting, Fran Bennett, Elsa Aguirre
IMDB: Giant (1956)
Sponsored Links
Ratings
User Rating:
IMDB Rating:
7.6
Reviews
The Hollywood Reporter

-

Giant stands shoulder-to-shoulder with the great ones.

TV Guide Magazine

-

GIANT confirms Taylor's skills as an actress; she's entirely believable even when she ages by just having her hair greyed.

Village Voice

-

Key to Giant's enduring appeal is the meshing of outsize stars with Ferber's characters: Closeted sex symbol Hudson's towering Bick fills the big boots of his ranching family while struggling with the demands of traditional masculine authority. The taboo-breaking Taylor is the seductive, whip-smart Leslie, an assured reformer who views the injustices visited upon the ranch's Mexican workers with maternal concern...And then there's Dean's most mannered, complex performance: Jett is at once transparent and enigmatic, hardening with age while the other characters mature. The actor's death — a year before release — adds a keen poignancy to the character's lost potential.

The New York Times

-

Thanks to Mr. Stevens' brilliant structure and handling of images, every scene and every moment is a pleasure. He makes "picture" the essence of his film.

Variety

-

It is also, for the most part, an excellent film which registers strongly on all levels, whether it's in its breathtaking panoramic shots of the dusty Texas plains; the personal, dramatic impact of the story itself, or the resounding message it has to impart.
Giant (1956)
Sprawling epic covering the life of a Texas cattle rancher and his family and associates.