Frida (2002)
---
"Frida" chronicles the life Frida Kahlo shared unflinchingly and openly with Diego Rivera, as the young couple took the art world by storm. From her complex and enduring relationship with her mentor and husband to her illicit and controversial affair with Leon Trotsky, to her provocative and romantic entanglements with women, Frida Kahlo lived a bold and uncompromising life as a political, artistic, and sexual revolutionary
Other Movies You Might Enjoy
---
Frida (2002)
---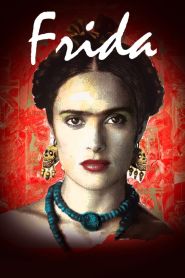 Information
---
Runtime: 123 minutes
Casts:
Mía Maestro
,
Diego Luna
,
Antonio Banderas
,
Salma Hayek
,
Saffron Burrows
,
Edward Norton
,
Geoffrey Rush
,
Roger Rees
,
Alfred Molina
,
Ashley Judd
,
Valeria Golino
,
Margarita Sanz
,
Patricia Reyes Spíndola
,
Omar Rodríguez
,
Lila Downs
Storyline
---
"Frida" chronicles the life Frida Kahlo shared unflinchingly and openly with Diego Rivera, as the young couple took the art world by storm. From her complex and enduring relationship with her mentor and husband to her illicit and controversial affair with Leon Trotsky, to her provocative and romantic entanglements with women, Frida Kahlo lived a bold and uncompromising life as a political, artistic, and sexual revolutionary
Reviews
---
Chicago Sun-Times

-

Sometimes we feel as if the film careens from one colorful event to another without respite, but sometimes it must have seemed to Frida Kahlo as if her life did, too.

Washington Post

-

Endlessly interesting. It's about people who thought ideas and art mattered, which makes it a rarity today.

Village Voice

-

Swank and splashy as it is, Frida leaves the lurking suspicion that Taymor might have preferred to stage her pageant as a puppet show.

Slate

-

If you want rich folk-art colors, brainy spectacle, and breezy soap opera, then Frida is the biopic for you.

Austin Chronicle

-

As directed by Taymor, it's a competent and nicely designed biopic that for all of the director's attempts to link surrealist film imagery with Hayek's depiction of Kahlo somehow manages to be generally lackluster.