Fatale (2020)
---
A married man is tricked into a murder scheme by a female police detective.
Other Movies You Might Enjoy
---
Fatale (2020)
---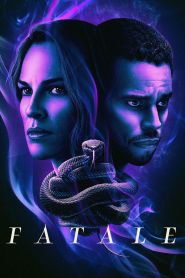 Information
---
Runtime: 102 minutes
Casts:
Hilary Swank
,
Mike Colter
,
Denise Dowse
,
Chic Daniel
,
Michael Ealy
,
Kali Hawk
,
Sam Daly
,
Tyrin Turner
,
Damaris Lewis
,
Oakley Bull
,
Geoffrey Owens
,
Danny Pino
,
David Hoflin
,
Stephen O'Mahoney
,
Ian Stanley
,
Sasha Golberg
Storyline
---
A married man is tricked into a murder scheme by a female police detective.
Reviews
---
The Film Stage

-

Fatale works well as an updated throwback. It's a well-made, well-acted neo-noir absent any sort of self-seriousness or superfluous posturing. An hour-and-a-half has rarely moved faster.

Los Angeles Times

-

While Fatale isn't special, it's better than most specimens of the genre due to its turns (again, I recommend skipping the trailer — which also makes it look like a differently made film, one using bolder cinematic techniques) and Swank's exploration of her character.

The Hollywood Reporter

-

Fatale proves very watchable, in an incredulous B-movie kind of way, and Taylor is a slick enough filmmaker to keep things moving swiftly and entertainingly. The film certainly looks terrific, thanks to Dante Spinotti's glossy cinematography and the high-end production design and costuming.

The A.V. Club

-

What keeps Fatale from really working as a noir pastiche (or, dare to dream, a Coens-esque ghoulish comedy of violently incompetent malfeasance) is its gentle, kid-gloved deference to the idea that Derrick is a good guy, rather than a weak-willed dope or even an affable bumbler in over his head.

The New York Times

-

While this latter-day noir never builds up the froth of lurid delirium that brings genre pictures into a headier dimension, it's got enough juice to hold your attention.