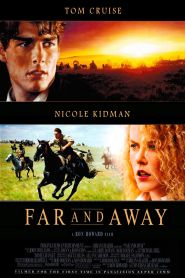 General Information
Glossary: F
Released Year: 1992
Runtime: 140 minutes
Genre: Adventure, Drama, Romance, Western
Directors: Ron Howard
Casts: Clint Howard, Rance Howard, Todd Hallowell, Tom Cruise, Phillip V. Caruso, Nicole Kidman, Jared Harris, Tim Monich, Jeff Ramsey, Gary Lee Davis, Carl Ciarfalio, Brendan Gleeson, Steven O'Donnell, Colm Meaney, Noel O'Donovan, Macdara Ó Fátharta, Rocco Sisto, Barry McGovern, Jimmy Keogh, Bobby Huber, Barbara Babcock, Anthony De Longis, Alecia LaRue, Cole S. McKay, Eileen Colgan, Bob Dolman, Brian Munn, Thomas Gibson, Robert Prosky, Clay M. Lilley, John-Clay Scott, Wayne Grace, Mark Wheeler, Cyril Cusack, Donré Sampson, Ken McCluskey, Frankie McCafferty, J.G. Devlin, Derry Power, Tom Lucy, Michelle Johnson, Hoke Howell, Pauline McLynn, Judith McIntyre, Donncha Crowley, James Jude Courtney, Pat Kinevane, William Preston, Niall Toibin, Julie Rowen, Louisa Marie, Eileen Pollock, Douglas Gillison, Peadar Lamb, Mark Mulholland, P.J. Brady, Wesley Murphy, Gerry Walsh, Brendan Cauldwell, Kate Flynn, Joan O'Hara, Poll Moussoulides, Tim McDonnell, Brendan Ellis, Jeffrey Andrews, Rynagh O'Grady, Martin Ewen, Frank Coughlan, Arnold Kuenning, Michael Rudd, Harry Webster, Joanne McAteer, Cara Wilder, Aedin Moloney, Helen Montague, Ian Elliot
IMDB: Far and Away (1992)
Sponsored Links
Ratings
User Rating:
IMDB Rating:
6.6
Reviews
Chicago Tribune

-

Far and Away, a mildly old-fashioned romantic melodrama that has as many charming moments as embarrassing ones. Much of the charm is supplied by the earnest performances of Tom Cruise and Nicole Kidman. [22 May 1992]

Time

-

Somehow it works, in part because of the way director Howard keeps his crowded frames abustle with activity, in part because of the sheer indomitability with which his leading characters are endowed by the actors and by writer Dolman, but mostly because the movie takes enlivening chances with its material.

Rolling Stone

-

Even at its hokiest, Far and Away is never less than heartfelt.

Chicago Reader

-

Sometimes it's hard to tell what's mere overreaching and what's nostalgia for Hollywood's former grandiloquence.

Chicago Sun-Times

-

Far and Away is a movie that joins astonishing visual splendor with a story so simple-minded it seems intended for adolescents.
Far and Away (1992)
A young man leaves Ireland with his landlord's daughter after some trouble with her father, and they dream of owning land at the big giveaway in Oklahoma ca. 1893. When they get to the new land, they find jobs and begin saving money. The man becomes a local barehands boxer, and rides in glory until he is beaten, then his employers steal all the couple's money and they must fight off starvation in the winter, and try to keep their dream of owning land alive. Meanwhile, the woman's parents find out where she has gone and have come to America to find her and take her back.