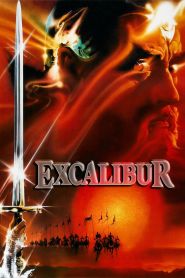 General Information
Glossary: E
Released Year: 1981
Runtime: 140 minutes
Genre: Adventure, Drama, Fantasy
Directors: John Boorman
Casts: Ciarán Hinds, Liam Neeson, Nigel Terry, Helen Mirren, Gabriel Byrne, Patrick Stewart, Niall O'Brien, Nicol Williamson, Nicholas Clay, Cherie Lunghi, Paul Geoffrey, Corin Redgrave, Keith Buckley, Clive Swift, Robert Addie, Katrine Boorman, Charley Boorman
IMDB: Excalibur (1981)
Sponsored Links
Ratings
User Rating:
IMDB Rating:
7.4
Reviews
Variety

-

Excalibur is exquisite, a near-perfect blend of action, romance, fantasy and philosophy, finely acted and beautifully filmed by director John Boorman and cinematographer Alex Thomson.

Time

-

Love Excalibur or hate it, but give Boorman credit for the loopy grandeur of his imagery and imaginings, for the sweet smell of excess, for his heroic gamble that a movie can dare to trip over its pretensions— and still fly.

Chicago Sun-Times

-

What a wondrous vision Excalibur is! And what a mess.

Chicago Reader

-

John Boorman's 1981 retelling of the Arthurian legends is a continuation of the thematic thrust and visual plan of his Exorcist II, though the failure of that bold, hallucinatory, and flawed film seems to have put Boorman into partial retreat.

TV Guide Magazine

-

Excalibur is a grand, clanky, brooding fantasy.
Excalibur (1981)
A surreal adaptation of Sir Thomas Malory's "Le Morte d'Arthur", chronicling Arthur Pendragon's conception, his rise to the throne, the search by his Knights of the Round Table for the Holy Grail, and ultimately his death.