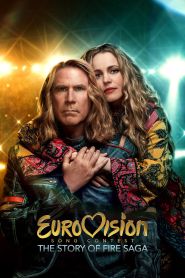 General Information
Glossary: E
Released Year: 2020
Runtime: 124 minutes
Genre: Comedy, Music
Directors: David Dobkin
Writers: Will Ferrell, Andrew Steele
Casts: Ólafur Darri Ólafsson, Rachel McAdams, Will Ferrell, Marcus Garvey, Pierce Brosnan, Demi Lovato, Jon Kortajarena, Mikael Persbrandt, Trevor Allan Davies, Tómas Lemarquis, Andrei Zayats, Dan Stevens, Gudmundur Thorvaldsson, Alexander Rybak, Elina Alminas, Julian Miller, Jamie Demetriou, Bobby Lockwood, Aiste Gramantaite, Graham Norton, Arnar Jónsson, Chris Lew Kum Hoi, Nína Dögg Filippusdóttir, Jóhannes Haukur Jóhannesson, Natasia Demetriou, Alfrun Rose, Kajsa Mohammar, Melissanthi Mahut, Joi Johannsson, Björn Hlynur Haraldsson, Elena Saurel, Elin Petersdottir, Christopher Jeffers, Rebecca Harrod, Josh Zaré, Eleanor Williams, Björn Stefánsson, Maxim De Villiers, Smari Gunn, Hannes Óli Ágústsson, Hlynur Þorsteinsson, William Lee Adams, Heidi Niemi, Chris Beaumont, Laura Hayden, Joshua Rumble, Harry Balazs, Jackson Couzens, Halldora Thoell, Alfie Melia, Mark Adams, Zack Propert, Brie Kristiansen, Gunnar Cauthery, Milan van Weelden, Alexander Tol, Junior Delius, Daniela Tocari, Tharan Sivapatham, Miguel Angelo, Eveline Suter, Tommy Ashby, Lydia Clowes, Salvador Sobral, John Lundvik, Anna Odobescu, Bilal Hassani, Loreen, Jessy Matador, Jamala, Elina Nechayeva, Thomas Neuwirth, Netta, Sophia-Grace Donnelly, Spike Jefferson, Yevgeniy Malyarchuk
IMDB: Eurovision Song Contest: The Story of Fire Saga (2020)
Sponsored Links
Ratings
User Rating:
IMDB Rating:
6.5
Reviews
New York Magazine (Vulture)

-

Eurovision gives us an inspired and hilarious match between subject and stars, all driven by melodrama: The glorious, over-the-top theatricality of the song contest makes an ideal stage for Ferrell's brand of high-highs and low-lows.

IGN

-

The jokes in the sweet and silly Eurovision Song Contest: The Story of Fire Saga don't always pop as well as its songs.

IndieWire

-

One way or the other, the biggest issue with "The Story of Fire Saga" is that most of it is just too limp and anodyne to register.

The Hollywood Reporter

-

If ever a comedy cried out for tight 85-minute treatment that keeps the gags pinging fast enough to disguise the thin sketch material at its core, it's this hit-or-miss two-hour feature.

Washington Post

-

At heart, "Eurovison" seems content to be more dumb rom-com than sharp music satire.
Eurovision Song Contest: The Story of Fire Saga (2020)
Two small-town aspiring musicians chase their pop star dreams at a global music competition, where high stakes, scheming rivals and onstage mishaps test their bond.