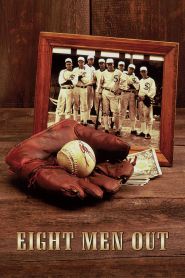 General Information
Glossary: E
Released Year: 1988
Runtime: 119 minutes
Genre: Drama, History
Directors: John Sayles
Writers: Eliot Asinof
Casts: Philip Murphy, Michael Mantell, David Strathairn, Charlie Sheen, Don Harvey, John Mahoney, John Cusack, Michael Rooker, Barbara Garrick, Rich Komenich, Bill Irwin, D. B. Sweeney, Kevin Tighe, John Anderson, Christopher Lloyd, Clifton James, Stephen Mendillo, John Sayles, Bill Raymond, Gordon Clapp, Wendy Makkena, Richard Edson, Dick Cusack, Michael Lerner, James Read, Robert Walsh, Jace Alexander, Michael Laskin, Nancy Travis, Charles Siebert, David Carpenter, Randle Mell, Maggie Renzi, Perry Lang, Jack Merrill, Studs Terkel, Clyde Bassett, James Desmond, Eliot Asinof, John D. Craig, Robert Motz, Tay Strathairn, Jesse Vincent, Jack George, Tom Surber, Tom Ledcke, Bert Hatch, Jerry Brent, Bruce Schumacher, Matthew Harrington, Richard Lynch, Gary Williams, Michael L. Harris, Ken Berry, David Rice, Tom Marshall, Josh Thompson, Julie Whitney, Dana Roi, J. Dennis Newman, Jim Martindale, Bill Jennings, David Hinman, Danton Stone, Patrick Grant, Tim Laughter, Brad Armacost, Jim Stark, Brad Griffith, Steve Salge, Eaton Randles, Max Chiddester, Patrick Brown, John Griesemer, Charles Yankoglu, Michael B. Preston
IMDB: Eight Men Out (1988)
Sponsored Links
Ratings
User Rating:
IMDB Rating:
7.2
Reviews
The New York Times

-

For Mr. Sayles, whose idealism has never been more affecting or apparent than it is in this story of boyish enthusiasm gone bad in an all too grown-up world, Eight Men Out represents a home run.

Los Angeles Times

-

As he spins his mesmerizing story of the fixing of the 1919 World Series, John Sayles moves to a new level of dexterity as a writer-director.

Empire

-

For anyone who appreciates artistic integrity and is interested in genuinely independent films, the prolific and highly personal work of John Sayles is essential viewing.

The A.V. Club

-

Detailed and memorable, with attention given to the many personalities and agendas involved, but while it finds sympathy for the men who feel pushed to cheat for money, it offers just as much sympathy for the fans who love the sport, and can't figure out why their beloved players would betray them.

Variety

-

Perhaps the saddest chapter in the annals of professional American sports is recounted in absorbing fashion in Eight Men Out.
Eight Men Out (1988)
A dramatization of the Black Sox scandal when the underpaid Chicago White Sox accepted bribes to deliberately lose the 1919 World Series.