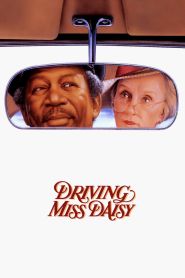 General Information
Glossary: D
Released Year: 1989
Runtime: 99 minutes
Genre: Drama
Directors: Bruce Beresford
Casts: Morgan Freeman, Ray McKinnon, Dan Aykroyd, Patti LuPone, William Hall Jr., Jessica Tandy, Esther Rolle, Joann Havrilla, Clarice F. Geigerman, Muriel Moore, Sylvia Kaler, Alvin M. Sugarman, Carolyn Gold, Crystal R. Fox, Bob Hannah, D. Taylor Loeb, Martin Luther King
IMDB: Driving Miss Daisy (1989)
Sponsored Links
Ratings
User Rating:
IMDB Rating:
7.4
Reviews
Boston Globe

-

Driving Miss Daisy, about the deepening relationship between a Jewish matron in Atlanta and her black chauffeur, is a luminous joy of a film, heartbreakingly delicate, effortlessly able through indirection to invoke the civil rights era without ever once slipping into portentous pronouncements. [12 Jan. 1990, p.35]

Chicago Sun-Times

-

Beresford is able to move us, one small step at a time, into the hearts of his characters. He never steps wrong on his way to a luminous final scene in which we are invited to regard one of the most privileged mysteries of life, the moment when two people allow each other to see inside.

Entertainment Weekly

-

Director Bruce Beresford's tightly focused adaptation retains all the impact of its Pulitzer Prize-winning stage original. Jessica Tandy and Morgan Freeman give exceptional performances as the aging widow and the sage black chauffeur who enlightens her in the segregated South.

Orlando Sentinel

-

This is a story about people, not politics. And perhaps because we can see the actors in closeup on the screen, that is even truer of the movie than the play. When you leave this film, you're not thinking, "My, what an important story!" When Driving Miss Daisy is over, you think, "I sure will miss those folks." [12 Jan. 1990, p.12]

St. Louis Post-Dispatch

-

This is Daisy's story, and Hoke's story. It's a beautiful story, filled with warmth and compassion. It was a glorious evening of theater when I saw it, and it's just as glorious on the screen. [12 Jan. 1990, p.3F]
Driving Miss Daisy (1989)
The story of an old Jewish widow named Daisy Werthan and her relationship with her black chauffeur Hoke. From an initial mere work relationship grew in 25 years a strong friendship between the two very different characters in a time when those types of relationships where shunned upon. Oscar winning tragic comedy with a star-studded cast and based on a play of the same name by Alfred Uhry.