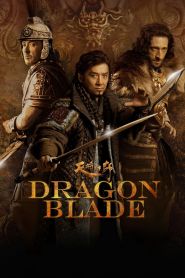 General Information
Glossary: D
Released Year: 2015
Runtime: 127 minutes
Genre: Action, Adventure, Drama
Directors: Daniel Lee
Writers: Daniel Lee
Casts: Adrien Brody, Jackie Chan, Sharni Vinson, Ned Bellamy, John Cusack, Benny Urquidez, Kevin Lee, Steve Yoo, Lin Peng, Pierre Bourdaud, Paul Philip Clark, Murray Clive Walker, Max Huang, Tomer Oz, Raiden Integra, Faith Ugurlu, James Lee Guy, Alfred Hsing, Choi Si-won, Choi Si-won, Lorie Pester, Joel Adrian, Joel Adrian, Harry Oram, Kyle Shapiro, Jonathan Paulson, Vander McLeod, Philippe Joly, Danny Salay, Jai Day, Emrah Yilmaz, Danny Cameron, Kyle Cameron, Kyle Andrew MacNeil, Daniel P. Cameron, Miroslav Karel, J.J. Demiannay, Alexander Corne, Will Lefebvre, Jozef Waite
IMDB: Dragon Blade (2015)
Sponsored Links
Ratings
User Rating:
IMDB Rating:
6.0
Reviews
Variety

-

The writer-director has overcome his tendency to weave florid plots that quickly run out of steam, here forging a coherent narrative that's strong on physical and emotional drive.

New York Post

-

Daniel Lee's elaborate Chinese historical action epic Dragon Blade certainly gets points for creative casting, as well as its gorgeous widescreen visuals.

Screen International

-

Committed performances, a hefty budget and assured hands behind the camera ensure that Dragon Blade delivers on its promise of sprawling battle scenes, intriguing culture clashes and budding bromances, where its giddily high concept and unlikely casting may so easily have seen it fail.

The Hollywood Reporter

-

Exerting significant control over the film – from a screenplay filled with modern resonance to very effective production design – Lee just barely manages to overcome the jarring problem posed by its (mugging) American cast.

Village Voice

-

The picture never quite finds its tone: It's neither go-for-broke outrageous enough to be consistently funny, nor energetic enough to be viscerally entertaining. It's neither as bad as you might fear, nor as much fun as you might hope.
Dragon Blade (2015)
Huo An, the commander of the Protection Squad of the Western Regions, was framed by evil forces and becomes enslaved. On the other hand, a Roman general escapes to China after rescuing the Prince. The heroic duo meet in the Western Desert and a thrilling story unfolds.