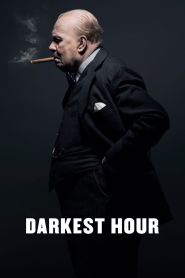 General Information
Glossary: D
Released Year: 2017
Runtime: 125 minutes
Genre: Biography, Drama, History, War
Directors: Joe Wright
Casts: Nicholas Jones, Pip Torrens, Gary Oldman, David Schofield, Philip Martin Brown, David Strathairn, Ben Mendelsohn, David Bamber, Kristin Scott Thomas, Ronald Pickup, Adrian Rawlins, Samuel West, John Atterbury, Stephen Dillane, Richard Lumsden, Lily James, Brian Pettifer, Paul Leonard, Nia Gwynne, Eric MacLennan, Richard Glover, Jeremy Child, Charley Palmer Rothwell, Malcolm Storry, Benjamin Whitrow, John Locke, Anna Burnett, Hilton McRae, Jordan Waller, Flora Nicholson, Faye Marsay, Patsy Ferran, Joe Armstrong, Michael Gould, Hannah Steele, Mary Antony, Bethany Muir, James Eeles, Roisin O'Neill, Joanna Neary, Tom Ashley, Bronte Carmichael
IMDB: Darkest Hour (2017)
Sponsored Links
Ratings
User Rating:
IMDB Rating:
7.4
Reviews
The Playlist

-

Few would argue that Oldman isn't one of the finest actors of his generation, but this is a tour de force portrayal that will define his body of work for decades to come.

Variety

-

Wright is both a virtuoso filmmaker and a natural showman, interpreting the screenplay as no other director could have possibly imagined it.

IndieWire

-

It's a deliciously unsubtle testament to the power of words and their infinite capacity to inspire.

Screen International

-

This is a film which breathes life, as well as alcohol fumes, into history. Like its central character, Darkest Hour has "mobilised the English language and sent it into battle."

The Guardian

-

Gary Oldman is terrific as Churchill, conveying the babyishness of his oddly unlined face in repose, the slyness and manipulative good humour, and a weird deadness when he is overtaken with depression.
Darkest Hour (2017)
A thrilling and inspiring true story begins on the eve of World War II as, within days of becoming Prime Minister of Great Britain, Winston Churchill must face one of his most turbulent and defining trials: exploring a negotiated peace treaty with Nazi Germany, or standing firm to fight for the ideals, liberty and freedom of a nation. As the unstoppable Nazi forces roll across Western Europe and the threat of invasion is imminent, and with an unprepared public, a skeptical King, and his own party plotting against him, Churchill must withstand his darkest hour, rally a nation, and attempt to change the course of world history.