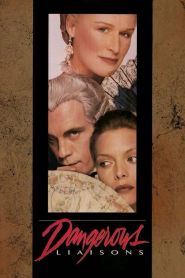 General Information
Glossary: D
Released Year: 1988
Runtime: 119 minutes
Genre: Drama, Romance
Directors: Stephen Frears
Casts: John Malkovich, Uma Thurman, Keanu Reeves, Michelle Pfeiffer, Christian Erickson, Joe Sheridan, François Montagut, Glenn Close, Swoosie Kurtz, Peter Capaldi, Harry Jones, Mildred Natwick, François Lalande, Valerie Gogan, Laura Benson, Joanna Pavlis, Nicholas Hawtrey, Paulo Abel Do Nascimento, Catherine Cauwet
IMDB: Dangerous Liaisons (1988)
Sponsored Links
Ratings
User Rating:
IMDB Rating:
7.6
Reviews
Washington Post

-

A delectably naughty experience. This sort of wit and immediacy is extraordinarily rare in a period film.

Entertainment Weekly

-

Pfeiffer reveals an emotional nakedness that's almost shocking. Never has she exposed so much and done it so simply. Who knew she could be this good?

The New York Times

-

Nothing Miss Close has done on the screen before approaches the richness and comic delicacy of her work as the Marquise. [21 Dec 1988, p.C22]

Time

-

An excellent film. [16 Jan 1989, p.64]

Los Angeles Times

-

In addition to its photography, the film's details of costuming (by "The Last Emperor's" James Acheson) and production design (by Stuart Craig of "Gandhi" and "The Mission") are ravishing. [21 Dec 1988, Calendar p.6]
Dangerous Liaisons (1988)
In 18th century France, Marquise de Merteuil asks her ex-lover Vicomte de Valmont to seduce the future wife of another ex-lover of hers in return for one last night with her. Yet things don't go as planned.