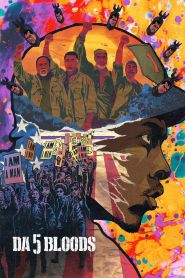 General Information
Glossary: D
Released Year: 2020
Runtime: 156 minutes
Genre: Drama, War
Directors: Spike Lee
Casts: Rick Shuster, Delroy Lindo, Isiah Whitlock Jr., Jean Reno, Johnny Trí Nguyễn, Mélanie Thierry, Paul Walter Hauser, Clarke Peters, Norm Lewis, Chadwick Boseman, Veronica Ngo, Jonathan Majors, Jasper Pääkkönen, Alexander Winters, Lê Y Lan, Nguyen Ngoc Lâm, Sandy Huong Pham, Nguyen Anh Tuan, Duc Luong, Quoc Tuan, Tran Minh Thuong, Hoang Sang, Thanh Van, Nguyen Bao Ngoc, Linh Huynh, Le Cuong, Nhu Thuc, Hung Cuong, Thuy Hong, Nhu Le, Ngoc Anh, Hawk Newsome, Adrienne J. Stowers, Tirina Simons, Kenda Roberts, Pernell Edward, Hanh Phuc, Chu Xuan Ai, Jordan Morgan, Alex Winters, Anton Patrynika, Casey Clark, Andrey Kasushkin, Suradet Dongthaisong, Nhut Linh, Phuc Pham Hoang, Quoc Toan, Xuan Thanh, Truc Linh, Nguyen Kim Dung, Nguyen Vu Truc Nhu, Taweesak Baoseehah, Surawan Satchukorn, Pichaiyut Jongjai, Chaiyos Chaiyosburana, Laersak Phusomjai, Amanda Nguyen, Devin Rumer, Mav Kang
IMDB: Da 5 Bloods (2020)
Sponsored Links
Ratings
User Rating:
IMDB Rating:
6.7
Reviews
The Guardian

-

It's all so inventively bizarre that you could treat it simply as a black comedy, but in the final 15 minutes there is an amazing crescendo of emotion.

RogerEbert.com

-

Lee has crafted an exciting, violent film that can be enjoyed as strictly that, but what elevates it to greatness is what it says and what it shows about the perception of Blackness, whether in heroic situations or human ones.

Chicago Sun-Times

-

Director Lee and the team of writers have created an immersive, violent and sometimes shocking tapestry that plays out like "Deer Hunter" meets "The Treasure of the Sierra Madre," with a steady undercurrent of subtle and not-so-subtle social and political commentary.

New York Magazine (Vulture)

-

It is one of the greatest films Spike Lee has ever made.

Los Angeles Times

-

The tonal shifts can be so abrupt as to induce whiplash, not to mention a kind of moral and narrative chaos, which seems to be very much to the movie's point. The rich, tumultuous history of Black life over the past century could certainly find a worse cinematic analogue than this heady swirl of wry comedy, seductive music, ferocious argument and devastating carnage.
Da 5 Bloods (2020)
Four African-American Vietnam veterans return to Vietnam. They are in search of the remains of their fallen squad leader and the promise of buried treasure. These heroes battle forces of humanity and nature while confronted by the lasting ravages of the immorality of the Vietnam War.