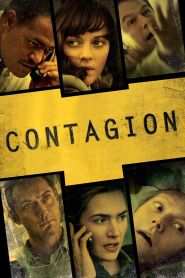 General Information
Glossary: C
Released Year: 2011
Runtime: 106 minutes
Genre: Drama, Thriller
Directors: Steven Soderbergh
Casts: Matt Damon, Gwyneth Paltrow, Kate Winslet, Jude Law, Marion Cotillard, Laurence Fishburne, Bryan Cranston, Sanaa Lathan, Jennifer Ehle, Daria Strokous, Anna Jacoby-Heron, Enrico Colantoni, Demetri Martin, Rick Uecker, Nathan Geist, Jamie Newell, Elliott Gould, Griffin Kane, Rebecca Spence, John Hawkes, Chin Han, Yoshiaki Kobayashi, Monique Gabriela Curnen, Teri McEvoy, Sue Redman, Teri Campbell, Stef Tovar, Mary Jo Faraci, Grace Rex, Armin Rohde, Joseph Anthony Foronda, Larry Clarke, Annabelle Armour, Jim Ortlieb, Kara Zediker, Laura Fisher, Mary Beth Dolan, Dan Flannery, Jason Babinsky, Howie Johnson, Sanjay Gupta
IMDB: Contagion (2011)
Sponsored Links
Ratings
User Rating:
IMDB Rating:
6.6
Reviews
Boxoffice Magazine

-

This is Steven Soderbergh at his best delivering a gripping, chilling and powerful movie experience that will have audiences talking (and freaking out).

Village Voice

-

If Contagion truly is the first leg of Soderbergh's retirement victory lap, this harrowing film is a potent reminder of what we stand to lose.

Arizona Republic

-

All are good, Damon in particular, but there are so many of them we don't see anyone for very long at one stretch. And all are given at least some bad material to work with before the movie is over. For the most part, they make the best of it.

Chicago Sun-Times

-

One aspect of the film is befuddling. Alan Krumwiede (Jude Law) is a popular blogger with conspiracy theories about the government's ties with drug companies. His concerns are ominous but unfocused. Does he think drug companies encourage viruses? The blogger subplot doesn't interact clearly with the main story lines and functions mostly as an alarming but vague distraction.

The Hollywood Reporter

-

The pressure cooker plot calls for intense performances all around but first among equals are Winslet and Ehle.
Contagion (2011)
As an epidemic of a lethal airborne virus - that kills within days - rapidly grows, the worldwide medical community races to find a cure and control the panic that spreads faster than the virus itself.