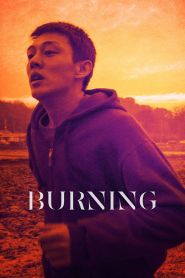 General Information
Glossary: B
Released Year: 2018
Runtime: 148 minutes
Genre: Drama, Mystery, Thriller
Directors: Lee Chang-dong
Writers: Haruki Murakami
Casts: Steven Yeun, Yoo Ah-in, Moon Sung-keun, Lee Joong-ok, Jun Jong-seo, Kim Soo-kyung, Choi Seung-ho, Min Bok-gi, Lee Soo-jeong, Ban Hye-ra, Cha Mi-Kyung, Lee Bong-ryeon, Jang Won-hyeong, Jeon Seok-chan, Ok Ja-yeon
IMDB: Burning (2018)
Sponsored Links
Ratings
User Rating:
IMDB Rating:
7.5
Reviews
Screen Daily

-

Once again, Lee has crafted a film of wondrous complexity and inscrutability. The more we see in Burning, the less sure we are of what we are watching.

The Telegraph

-

This is Lee's closest ever film to a thriller, but it defies expectations, offering multiple, murky solutions to a set of mysteries at once.

Los Angeles Times

-

Burning is a character study that morphs, with masterly patience, subtlety and nary a single wasted minute, into a teasing mystery and eventually a full-blown thriller.

IndieWire

-

Burning keeps twisting back on itself, charting the path of a man waking up to the world, only to find that it won't stop messing with him.

The A.V. Club

-

Burning simmers. For nearly two-and-a-half perfectly measured hours, it turns up the heat without boiling over: a drama becoming a thriller in slow motion, intensifying little by little minute by minute, until finally it reaches a shocking, powerful crescendo.
Burning (2018)
Deliveryman Jongsu is out on a job when he runs into Haemi, a girl who once lived in his neighborhood. She asks if he'd mind looking after her cat while she's away on a trip to Africa. On her return she introduces to Jongsu an enigmatic young man named Ben, who she met during her trip. And one day Ben tells Jongsu about his most unusual hobby...