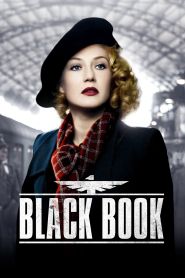 General Information
Glossary: B
Released Year: 2006
Runtime: 145 minutes
Genre: Drama, Thriller, War
Directors: Paul Verhoeven
Casts: Christian Berkel, Carice van Houten, Halina Reijn, Sebastian Koch, Timothy Deenihan, Bert Luppes, Garrick Hagon, Dolf de Vries, Matthias Schoenaerts, Derek de Lint, Michiel Huisman, Waldemar Kobus, Thom Hoffman, Theo Maassen, Peter Blok, Ronald Armbrust, Frank Lammers, Johnny de Mol, Xander Straat, Diana Dobbelman, Nolan Hemmings, Skip Goeree, Marisa Van Eyle, Ronald de Bruin, Menno van Beekum, Marcel Musters, Gijs Naber, Pieter Tiddens
IMDB: Black Book (2006)
Sponsored Links
Ratings
User Rating:
IMDB Rating:
7.7
Reviews
Premiere

-

Black Book is Verhoeven's best film since "RoboCop": audacious, smart, shamelessly entertaining.

The Hollywood Reporter

-

It succeeds on almost all fronts. The epic film is a high-octane adventure rooted in fact with a raft of arresting characters, big action sequences and twists and turns galore.

Rolling Stone

-

Just for starters, no movie about the Dutch Resistance during World War II has any right to be this wildly entertaining, not to mention this provocative and potently erotic.

ReelViews

-

Black Book possesses a taut, exciting script that throws surprises at the viewer on a regular basis.

TV Guide Magazine

-

While Rachel's story is fiction, many of its incidents are rooted in historical events carefully researched by Soeteman and the film's briskly staged action and stunning reversals of fortune ensure that its two and a half hours fly by.
Black Book (2006)
In the Nazi-occupied Netherlands during World War II, a Jewish singer infiltrates the regional Gestapo headquarters for the Dutch resistance.