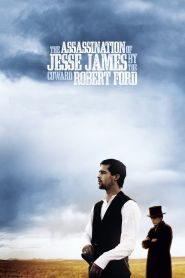 General Information
Glossary: T
Released Year: 2007
Runtime: 160 minutes
Genre: Biography, Crime, Drama, History, Western
Directors: Andrew Dominik
Casts: Sam Rockwell, Casey Affleck, Zooey Deschanel, Brad Pitt, Sam Shepard, Jeremy Renner, Garret Dillahunt, Nick Cave, Ted Levine, Mary-Louise Parker, Michael Parks, James Carville, Paul Schneider, Brooklynn Proulx, Kailin See, Alison Elliott, Sarah Lind, Dustin Bollinger, Joel McNichol, James Defelice, J.C. Roberts
IMDB: The Assassination of Jesse James by the Coward Robert Ford (2007)
Sponsored Links
Ratings
User Rating:
IMDB Rating:
7.5
Reviews
Entertainment Weekly

-

The nervy style of this newfangled Western, with its eerie, insinuating score by Nick Cave and Warren Ellis, is so effective that long after Pitt and Affleck have left the screen, emotional disturbance lingers like gun smoke.

The A.V. Club

-

A peculiar and destabilizing tone that's far from the standard Hollywood oater, but entirely fitting for two larger-than-life characters fulfilling their roles in history.

Variety

-

One of the best Westerns of the 1970s, which represents the highest possible praise. It's a magnificent throwback to a time when filmmakers found all sorts of ways to refashion Hollywood's oldest and most durable genre.

Rolling Stone

-

Artfully exciting and compulsively watchable even at a butt-numbing 152 minutes, the film makes good on the promise New Zealand writer-director Andrew Dominik showed with "Chopper" in 2000.

Christian Science Monitor

-

I wish this movie wasn't so purposefully elegiac and attenuated – at times it's like a middling Terrence Malick fantasia – but it's well worth sitting through.
The Assassination of Jesse James by the Coward Robert Ford (2007)
Outlaw Jesse James is rumored to be the 'fastest gun in the West'. An eager recruit into James' notorious gang, Robert Ford eventually grows jealous of the famed outlaw and, when Robert and his brother sense an opportunity to kill James, their murderous action elevates their target to near mythical status.