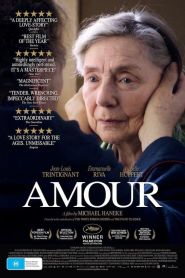 General Information
Glossary: A
Released Year: 2012
Runtime: 127 minutes
Genre: Drama, Romance
Directors: Michael Haneke
Casts: Laurent Capelluto, Isabelle Huppert, Ramón Agirre, Jean-Louis Trintignant, Emmanuelle Riva, Alexandre Tharaud, William Shimell, Rita Blanco, Carole Franck, Dinara Drukarova, Jean-Michel Monroc, Suzanne Schmidt, Damien Jouillerot, Walid Afkir
IMDB: Amour (2012)
Sponsored Links
Ratings
User Rating:
IMDB Rating:
7.9
Reviews
Empire

-

Michael Haneke's Palme D'Or winner is uncomfortable, uncompromising, unflinching... and utterly unmissable. Old age may not be a reality you wish to confront, but you must see this film.

Total Film

-

A compassionate, masterful work that deservedly won Haneke a second Palme d'Or after "The White Ribbon's" 2009 victory. Best to avoid on a first date, though.

Variety

-

Considering Haneke's confrontational past, this poignantly acted, uncommonly tender two-hander makes a doubly powerful statement about man's capacity for dignity and sensitivity when confronted with the inevitable cruelty of nature.

The Guardian

-

The icy message may be that love is not a consolation as we face death. Rather the reverse. Love will give your death meaning, but make it no less unbearable.

Observer

-

Don't let Amour join the legion of "Best Films You Never Saw." I urge you to share its sweetness and wisdom, and learn something.
Amour (2012)
Georges and Anne are in their eighties. They are cultivated, retired music teachers. Their daughter, who is also a musician, lives abroad with her family. One day, Anne has a stroke, and the couple's bond of love is severely tested.