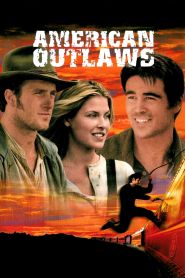 General Information
Glossary: A
Released Year: 2001
Runtime: 94 minutes
Genre: Action, Western
Directors: Les Mayfield
Casts: Colin Farrell, Kathy Bates, Ali Larter, Timothy Dalton, Gregory Smith, Scott Caan, Harris Yulin, Gabriel Macht, Ronny Cox, Terry O'Quinn, Joe Stevens, Nathaniel Arcand, Will McCormack, Barry Tubb, Ty O'Neal
IMDB: American Outlaws (2001)
Sponsored Links
Ratings
User Rating:
IMDB Rating:
6.0
Reviews
Boston Globe

-

At least hits a certain adrenaline level, and the stunts have panache. If you crave the ''Young Guns'' approach to the Old West, here it is again.

Baltimore Sun

-

It's a sad day for film lovers when the best thing that can be said about a Western is that it's pleasant.

Charlotte Observer

-

The best work comes from Timothy Dalton as the grizzled, Scots-accented head of the Pinkertons.

New Times (L.A.)

-

So desperate are the filmmakers to create a "hip" western that they try to cram it with action sequences that aren't very exciting.

San Francisco Chronicle

-

This plot leaves ample room for viewers to sweat the small stuff, like whether Trevor Nunn's score is more Marines ad or deodorant commercial.
American Outlaws (2001)
When a Midwest town learns that a corrupt railroad baron has captured the deeds to their homesteads without their knowledge, a group of young ranchers join forces to take back what is rightfully theirs. They will become the object of the biggest manhunt in the history of the Old West and, as their fame grows, so will the legend of their leader, a young outlaw by the name of Jessie James.