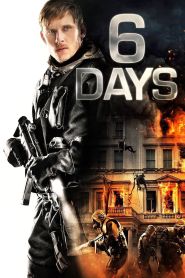 General Information
Glossary: 6
Released Year: 2017
Runtime: 95 minutes
Genre: Action, Drama, History, Thriller
Directors: Toa Fraser
Casts: Jamie Bell, Robert Portal, Mark Strong, Ronan Vibert, Joel Beckett, Aymen Hamdouchi, Abbie Cornish, Martin Hancock, Tim Pigott-Smith, Emun Elliott, Colin Moy, Calum Gittins, Tim Downie, Jared Turner, John Henshaw, Mia Blake, Kenneth Collard, Andrew Grainger, Andrew Lawrence, Ryan O'Kane, Ben Turner, Te Kohe Tuhaka, Xavier Horan, Eric Colvin, Matthew Sunderland, Fayssal Bazzi, Nicholas Boulton, John Ramm, Martin Shaw, Simon Elrahi, Colin Garlick, William Chubb, Sam Snedden, Toby Leach, Emma Campbell-Jones, Michael Denkha, Scarlett Featherstone, Venice Harris, Phil Peleton, Kip Chapman, Scott Michael Wagstaff, Dominic Hughes, David Rumney, Sara Stone, Ajayshri, Ghazaleh Golbakhsh, Marjan Gorgani, Robert Hartley, Glen Levy, Alan McElroy, Brady Powell, Jay Sutherland, Jeff Szusterman
IMDB: 6 Days (2017)
Sponsored Links
Ratings
User Rating:
IMDB Rating:
6.2
Reviews
ReelViews

-

This is as pure a narrative-based film as one is likely to find; the men and women populating 6 Days exist primarily to move the story along.

Variety

-

Technically smart but dramatically a bit flat.

Los Angeles Times

-

6 Days can't help but feel like a missed opportunity.

Slant Magazine

-

6 Days boils down the intricate relationship between Iran and the West into a tense standoff of conflicting ideals where the values and perspectives of only one side really matter.

Movie Nation

-

In that climate, the desultory 6 Days can be appreciated for at least having the guts to show us what can go wrong.
6 Days (2017)
In April 1980, armed gunmen stormed the Iranian Embassy in Princes Gate, London and took all inside hostage. Over the next six days a tense standoff took place, all the while a group of highly trained soldiers from the SAS prepared for a raid the world had never seen the likes of.