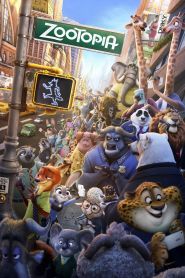 General Information
Glossary: Z
Released Year: 2016
Runtime: 108 minutes
Genre: Action, Adventure, Animation, Comedy, Crime, Family
Directors: Byron Howard, Rich Moore
Casts: J.K. Simmons, Jason Bateman, Idris Elba, Tom Lister Jr., Bonnie Hunt, Alan Tudyk, John DiMaggio, Katie Lowes, Maurice LaMarche, Kristen Bell, Octavia Spencer, Phil Johnston, Tommy Chong, Kath Soucie, Josh Dallas, Ginnifer Goodwin, Byron Howard, Terri Douglas, Jenny Slate, Mark Smith, Nate Torrence, Gita Reddy, Jesse Corti, Jeremy Milton, Rich Moore, Josie Trinidad, Raymond S. Persi, Dave Kohut, John Lavelle, Leah Latham, Don Lake, Bradford Simonsen, David Campbell, Melissa Goodwin Shepherd, Fabienne Rawley, Shakira, Jared Bush, Della Saba, Peter Mansbridge, Evelyn Wilson Bresee, Hewitt Bush, Jill Cordes, Madeleine Curry, Zach King, Fuschia!, Pace Paulsen, Claire K. Smith, Jackson Stein, David A. Thibodeau, Hannah G. Williams, Vassos Alexander, Ricardo Boechat, Koura Kazumasa
IMDB: Zootopia (2016) - IMDB
Sponsored Links
Ratings
User Rating:
IMDB Rating:
8.0
Reviews
Hitfix

-

As crazy as the design of the world is, Zootopia ends up feeling like a genuine place. There's a vibrancy to it that runs through everything from the pace of the storytelling to the background details of the world in which the story takes place.

The Hollywood Reporter

-

Boasting a pitch perfect voice cast led by a terrific Ginnifer Goodwin as a righteous rural rabbit who becomes the first cotton-tailed police recruit in the mammal-centric city of Zootopia, the 3D caper expertly combines keen wit with a gentle, and very timely, message of inclusivity and empowerment.

Time Out London

-

The world that Zootropolis creates is intelligent and fascinatingly detailed – it feels more like a movie by Disney-owned Pixar than a straight Disney film.

TheWrap

-

Thankfully the creators of this expansive adventure, a crime-solving saga starring a bunny who wants to be a cop, have a bit more in mind than the usual strains of aww-dorable humor and frenetic action.

Movie Nation

-

The movie's message about tolerance and not pre-judging others sings, and the many chases, interrogations (a weasel ably voiced by Alan Tudyk) and narrow escapes pay off.
Zootopia (2016)
Determined to prove herself, Officer Judy Hopps, the first bunny on Zootopia's police force, jumps at the chance to crack her first case - even if it means partnering with scam-artist fox Nick Wilde to solve the mystery.