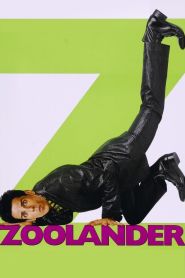 General Information
Glossary: Z
Released Year: 2001
Runtime: 89 minutes
Genre: Comedy
Directors: Ben Stiller
Casts: Lukas Haas, Ben Stiller, Owen Wilson, Patton Oswalt, James Marsden, Will Ferrell, Jennifer Coolidge, Christian Slater, Andy Dick, Milla Jovovich, Nora Dunn, Jon Voight, Natalie Portman, Justin Theroux, David Bowie, Tyson Beckford, Eric Winzenreid, Gavin Rossdale, Alexander Skarsgård, Heidi Klum, Stephen Dorff, Billy Zane, Vince Vaughn, Winona Ryder, Christine Taylor, Andrew Wilson, Judah Friedlander, Johann Urb, David Pressman, Jerry Stahl, Cuba Gooding Jr., Jerry Stiller, Donald Trump, Claudia Schiffer, David Duchovny, Nathan Lee Graham, Alexandre Manning, Asio Highsmith, Tom Ford, Steve Kmetko, Tommy Hilfiger, Lenny Kravitz, Gwen Stefani, Mark Ronson, Paris Hilton, Fred Durst, Lance Bass, Lil' Kim, Garry Shandling, Sandra Bernhard, Veronica Webb, Carmen Kass, Frankie Rayder, Matt Levin, Woodrow Asai, Vikram Chatwal, Kashana, Jonah Luber, Michael McAlpin, Ève Salvail, Shavo Odadjian, Eliot Johnson, Richard Gladys, Amy Stiller, John Vargas, Tony Kanal, Endre Hules, Ric Pipino, Jennifer McComb, Luc Commeret, Herb Lieberz, Zoya, Colin McNish, Darren Copeland, Richard Stanley, Shabazz Richardson, Rohan Quine, Svetlana, Charles Brame, Rudy Segura, Randall Slavin, Irina Pantaeva, Stan Chu, Kum Ming Ho, Theo Kogan, Lam Bor, Angel 11:11, Luther Creek, Dechen Thurman, Kenny Max, Kina, Godfrey, Taj Crown, Richie Rich, King, Frederic Fekkai, Kevyn Aucoin, Boris Kachscovsky, Mitch Winston, Mason Webb, Alexa Nikolas, Victoria Beckham, Fabio, Klara Landrat
IMDB: Zoolander (2001)
Sponsored Links
Ratings
User Rating:
IMDB Rating:
6.6
Reviews
Los Angeles Times

-

Exuberant and insidiously funny satire.

Film Threat

-

Stiller is laugh-out-loud funny from start to finish and anyone that may quibble about plot minutiae, is just not ready to have a good time.

Boston Globe

-

Isn't always on the money, but when it is, it really is.

New York Daily News

-

The humor is simple but far from dumb. The dueling "walk-off" between rival male mannequins is inspired, as are the sly juxtapositions of the male model's faux physicality with such real-world demands as coal mining.

Seattle Post-Intelligencer

-

The gags hit more than they miss, and Stiller has moments of inspired absurdity, but he's capable of something more cutting and clever. It's junk food moviemaking: fun to snack on, but hardly a substantial meal.
Zoolander (2001)
Clear the runway for Derek Zoolander, VH1's three-time male model of the year. His face falls when hippie-chic "he's so hot right now" Hansel scooters in to steal this year's award. The evil fashion guru Mugatu seizes the opportunity to turn Derek into a killing machine. Its a well-designed conspiracy and only with the help of Hansel and a few well-chosen accessories can Derek make the world safe.