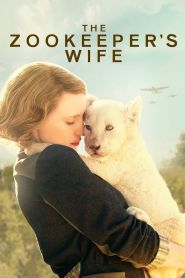 General Information
Glossary: T
Released Year: 2017
Runtime: 126 minutes
Genre: Biography, Drama, History, War
Directors: Niki Caro
Casts: Daniel Brühl, Brian Caspe, Anna Rust, Martin Hofmann, Jessica Chastain, Goran Kostić, Iddo Goldberg, Michael McElhatton, Hana Frejková, Johan Heldenbergh, Alena Mihulová, Václav Neužil, Timothy Radford, Efrat Dor, Shira Haas, Val Maloku, Martha Issová, Frederick Preston, Daniel Ratimorský, Theo Preston, Viktoria Zakharyanova, Arnošt Goldflam, Marián Mitaš, Jitka Smutná, Waldemar Kobus, Viktorie Jenicková, Adira B. Cole Abbett, Hana Pindurová, Slavko Sobin, Nataša Burger, Magdalena Lamparska, Vilma Frantová, Magdaléna Sidonová, Petra Buckova, Roman Vejdovec, Ladislav Hampl, Ester Kočičková, Roman Horák, Jakub Šmíd, Gabriel Cohen, Josef Guruncz
IMDB: The Zookeeper's Wife (2017)
Sponsored Links
Ratings
User Rating:
IMDB Rating:
7.0
Reviews
The Film Stage

-

There's something powerful to be read into every action, line, and image. Subtle yet striking, this is a film that is filled with the power of exquisitely executed storytelling.

The Seattle Times

-

It's a remarkable story, told in a movie that doesn't always quite live up to it; except for a few crucial scenes, The Zookeeper's Wife feels a bit too soft-focus for the devastating story it tells.

IndieWire

-

Decency, in its raw, instinctive form, is ultimately what earns The Zookeeper's Wife a place in the self-conflicted canon of Holocaust cinema.

Entertainment Weekly

-

Even at its most engaging (those cubs!), Zookeeper can't help evoking the dozens of films that have told these stories before, and better.

Slant Magazine

-

The film imbues a pessimistic view of the seemingly bottomless depths of human cruelty with sorrowful tragic force.
The Zookeeper's Wife (2017)
The account of keepers of the Warsaw Zoo, Jan and Antonina Zabinski, who helped save hundreds of people and animals during the Nazi invasion.