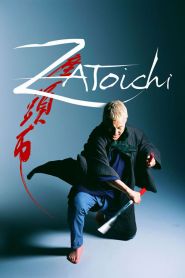 General Information
Glossary: Z
Released Year: 2003
Runtime: 111 minutes
Genre: Action, Comedy, Crime, Drama, Music
Directors: Takeshi Kitano
Casts: Tadanobu Asano, Takeshi Kitano, Michiyo Ookusu, Gadarukanaru Taka, Daigorō Tachibana, Yûko Daike, Yui Natsukawa, Ittoku Kishibe, Saburo Ishikura, Akira Emoto
IMDB: Zatoichi (2003) - IMDB
Sponsored Links
Ratings
User Rating:
IMDB Rating:
7.6
Reviews
Film Threat

-

As entertaining and surprising as the film is, however, nothing can prepare one for its rousing final fight scenes.

Variety

-

Over-plotted and at times incoherent but never dull, this is a stylishly designed, highly entertaining bloodbath full of offbeat comedy and inspired musical moments.

L.A. Weekly

-

Although Zatoichi may disappoint some Kitano purists, who might think it a vanity piece or submission to popular taste -- he's even begun moving his camera -- its pyrotechnics are still audacious and breathtaking.

The New York Times

-

Like many musicals, The Blind Swordsman works better in individual scenes than as a whole. Mr. Kitano is not the most disciplined storyteller, and the plot meanders along tangents and stumbles into flashbacks, losing momentum for long stretches in the middle.

Rolling Stone

-

Kitano is a riveting spectacle. So's the movie.
Zatoichi (2003)
Zatôichi is a 19th century blind nomad who makes his living as a gambler and masseur. However, behind this humble facade, he is a master swordsman gifted with a lightning-fast draw and breathtaking precision. While wandering, Zatôichi discovers a remote mountain village at the mercy of Ginzo, a ruthless gang-leader. Ginzo disposes of anyone who gets in his way, especially after hiring the mighty samurai ronin, Hattori, as a bodyguard. After a raucous night of gambling in town, Zatôichi encounters a pair of geishas--as dangerous as they are beautiful--who've come to avenge their parents' murder. As the paths of these and other colorful characters intertwine, Ginzo's henchmen are soon after Zatôichi. With his legendary cane sword at his side, the stage is set for a riveting showdown.