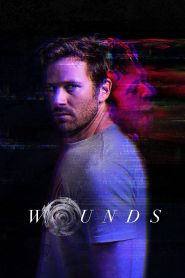 General Information
Glossary: W
Released Year: 2019
Runtime: 94 minutes
Genre: Drama, Horror, Mystery, Thriller
Directors: Babak Anvari
Writers: Babak Anvari
Casts: Kevin Beard, Ritchie Montgomery, Dakota Johnson, Lawrence Turner, Armie Hammer, Kerry Cahill, Brad William Henke, Terence Rosemore, Jim Klock, Luke Hawx, Christin Rankins, Karl Glusman, Martin Bats Bradford, Zazie Beetz, Ben Sanders, Alexander Biglane, Matthew Underwood, Creek Wilson, Xena Zeit-Geist, Kermit Burns III, Cami Roebuck
IMDB: Wounds (2019)
Sponsored Links
Ratings
User Rating:
IMDB Rating:
4.1
Reviews
Film Threat

-

Wounds is a visceral, disturbing descent into the destruction of a man that hits all of the conventional horror notes with sadistic joy taking viewers on a ride straight to hell.

The Hollywood Reporter

-

Voracious genre consumers should get off on trying to decipher the densely textured film's murky ambiguities.

Variety

-

Anvari has set out to make a mood piece that succeeds in scaring the audience senseless.

The Telegraph

-

It's decent but not deep fare, connecting most with the theme of alcoholism as a different kind of tempting but terrible abyss.

The Playlist

-

Ultimately, it's hard to figure out exactly what movie Anvari was trying to make.
Wounds (2019)
Disturbing and mysterious things begin to happen to a bartender in New Orleans after he picks up a phone left behind at his bar.