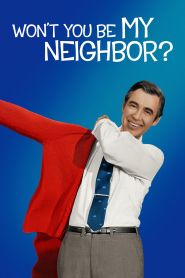 General Information
Glossary: W
Released Year: 2018
Runtime: 93 minutes
Genre: Biography, Documentary
Directors: Morgan Neville
Casts: Bill Clinton, Hillary Clinton, Betty Aberlin, Al Gore, Fred Rogers, François Scarborough Clemmons, Yo-Yo Ma, Joe Negri, Kailyn Davis, David Newell, Joanne Rogers, McColm Cephas Jr., Koko, Christa McAuliffe, John O. Pastore, Betty Seamans, Margaret Whitmer, David Bianculli, Johnny Costa, Jeff Erlanger, Lyndon Johnson, Tom Junod, Robert F. Kennedy, Brian Kilmeade, Max King, Junlei Li, Penny Patterson, Jim Rogers, John Rogers, Tom Snyder, Nick Tallo
IMDB: Won't You Be My Neighbor? (2018)
Sponsored Links
Ratings
User Rating:
IMDB Rating:
8.5
Reviews
IndieWire

-

In Won't You Be My Neighbor, the touching and insightful survey of Rogers' decades-spanning career from Oscar-winning director Morgan Neville ("Twenty Feet From Stardom"), the filmmaker highlights Rogers' capacity to explore complex themes through the lens of a kid's program that took a dead-serious approach to his young viewers' needs.

Uproxx

-

It's kind of hard to write about Won't You Be My Neighbor? as a film. It's exceptionally well-made, mind you – which shouldn't be a huge surprise coming from Morgan Neville, who won an Academy Award for directing 20 Feet From Stardom – but beyond being a film, it's an experience of earnestness we don't see or hear much anymore, to the point that it's a bit of a jolt to the system.

Movie Nation

-

Oscar winner Morgan Neville ("20 Feet From Stardom") carves in stone the case for Rogers' as an authentic American TV saint.

Boston Globe

-

In his three-decade run, Rogers touched millions of souls. But the film is honest in questioning whether, in the end, he really made a difference.

The Seattle Times

-

Fred Rogers is gone and the world is a much scarier place; this film, like a gift, briefly transports us back to the calm we felt long ago.
Won't You Be My Neighbor? (2018)
Fred Rogers used puppets and play to explore complex social issues: race, disability, equality and tragedy, helping form the American concept of childhood. He spoke directly to children and they responded enthusiastically. Yet today, his impact is unclear. Have we lived up to Fred's ideal of good neighbors?