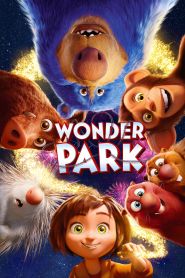 General Information
Glossary: W
Released Year: 2019
Runtime: 86 minutes
Genre: Adventure, Animation, Comedy, Family, Fantasy
Directors:
Casts: Matthew Broderick, Mila Kunis, Ken Jeong, Jennifer Garner, Norbert Leo Butz, Kath Soucie, Kenan Thompson, John Oliver, Meilee Condron, Brianna Denski, Sofia Mali
IMDB: Wonder Park (2019)
Sponsored Links
Ratings
User Rating:
IMDB Rating:
5.7
Reviews
ReelViews

-

Older viewers are more likely to appreciate the film's intentions than fully embrace the story and its characters. Kids, on the other hand, will probably enjoy the frenetic action sequences; plucky heroine; cute, talking animals; and colorful visual representations.

The Globe and Mail (Toronto)

-

While Wonder Park starts sweet and shallow, it develops into something more robust. Sometimes it's a bit too precious, and despite its attempts at comedy, it isn't all that funny. But as a nuanced young character, June is a refreshing creation. She shines through the glittering theme park.

TheWrap

-

Instead of an instant classic, we get a noble effort. We need more of those. This is a bright and earnest attempt to craft an on-screen fantasy for modern kids, with a practical moral that anyone could appreciate.

Paste Magazine

-

As far as Wonder Park goes, it's basic, but not condescending. I especially appreciated an important addition to the finale that deals with how children should handle their feelings with balance and moderation.

Variety

-

The notion of a larger-than-life theme-park world as a projection of what June is going through comes directly out of "Inside Out," but the comparison does Wonder Park no favors, because the earlier film was a masterpiece of bursting ingenuity, leaving this one to play like the scaled-down toddler version. On that score, it must be said that little kids will like Wonder Park just fine. But there's a difference between a great escape and a winsomely crafted pacifier.
Wonder Park (2019)
The story of a magnificent amusement park where the imagination of a wildly creative girl named June comes alive.