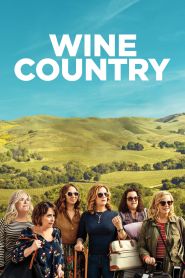 General Information
Glossary: W
Released Year: 2019
Runtime: 103 minutes
Genre: Comedy
Directors: Amy Poehler
Writers: Liz Cackowski, Emily Spivey
Casts: Jason Schwartzman, Rachel Dratch, Maya Rudolph, Amy Poehler, Tina Fey, Ana Gasteyer, Liz Cackowski, Cherry Jones, Paula Pell, Jon Glaser, Craig Cackowski, Sunita Mani, Maya Erskine, Emily Spivey, Kate Comer, R.J. Walker, Santina Muha, Rachel Hamilton, Brené Brown, Janine Brito, Jason Greene, Greg Poehler, Caitlin Arend, Elise Robson, Hannah Bamberg
IMDB: Wine Country (2019)
Sponsored Links
Ratings
User Rating:
IMDB Rating:
5.5
Reviews
TheWrap

-

Wine Country shows that women in their 50s are in one of the best phases of their lives, a time to be celebrated, welcomed, and enjoyed with good friends and good wine.

The Guardian

-

Wine Country is scrappy and, at times, misjudged but it's also very, very funny with a cast of women whose collective charm makes the patchier moments forgivable. Watching it with wine helps too.

San Francisco Chronicle

-

Judging by her funny, warm, drawn-from-life feature directing debut Wine Country, Amy Poehler is a gracious friend. She and screenwriters Emily Spivey and Liz Cackowski ensure that the many former "Saturday Night Live" performers and writers assembled for this Napa Valley-set Netflix comedy get moments to shine.

The Hollywood Reporter

-

Poehler's adept at showcasing not just the comic gifts of her cast, whose decades-long friendships began in improv theaters and at SNL, but also the joyful vamping that connects their characters.

Variety

-

The friends we see on-screen are equally close in real life, and the outing depicted in Wine Country was inspired by similar trips they've made together. That explains the second-nature chemistry that makes them so much fun to watch, even when the shenanigans...leave one longing for the outrageousness of an all-female studio comedy like "Bridesmaids" or "Girls Trip."
Wine Country (2019)
A group of friends head to the land of oaky Chardonnays and big, bold Cabernet Sauvignons for one member of the squad's 50th birthday party.